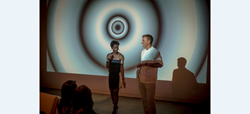 CAM Raleigh is the hottest downtown spot on the planet (no global warming pun intended). Come join us.
Raleigh, North Carolina (PRWEB) April 24, 2015
On May 8th, CAM Raleigh's signature fundraiser - Arthouse - will be a smashing downtown party! CAM Raleigh hopes that the public will join this massive party this year (last year CAM attendees neared 500 patrons) as hosts and/or participants for the 4th annual Arthouse. The party is Friday, May 8 and will start at 7pm with a VIP hour exclusively for hosts.
CAM Raleigh is thrilled to celebrate our fourth year in the Warehouse District with Arthouse 2015, the museum's signature fundraising event and an extraordinary gathering of friends and community leaders.
This one-night-only event features dazzling food by Cheetie Kumar of Garland Restaurant, vibrant cocktails, incredible music and the opportunity to bid on a collection of unforgettable art and experiences. All proceeds benefit CAM Raleigh's acclaimed exhibitions and transformative education programs. Please join us for this fantastic evening. We can't wait to see you.
Special thanks to Joseph Rafferty photographer for the above 2014 Arthouse Photo.
Cocktail Attire. Valet Parking.
TICKETS
Corporate sponsorships and ticket packages are available. Please contact Marjorie Hodges for details:
919.414.3009 or marjorie(dot)hodges(at)camraleigh(dot)org.
Host Committee
Couple $500
Single $250
CAM Raleigh Members
$150
CAM/now Members
$100
[CAM/now is our young professionals group.]
Non-Members
$175
MEMBERSHIP PACKAGES
CAM Raleigh Individual Membership + Member Ticket
$225
CAM/now Membership + CAM/now Ticket
$150
Purchase Tickets Online at CAM Raleigh
All proceeds benefit CAM Raleigh's acclaimed exhibitions and transformative education programs. Join the CAM Raleigh board for an evening of joy as we celebrate the Arts - and the impact CAM Raleigh has on the children of Wake County.
There will also be other fantastic surprises you won't want to miss! Please be a part of this extraordinary evening. As hosts, all you have to do is invite your friends and colleagues to the party - and more importantly, you will help CAM Raleigh remain a major force economically and creatively in our great city.
Get details and host/participant tickets here:
For more information and to sign up for corporate sponsorship, please call Marjorie Hodges: 919.414.3009. Thank you.
CAM Raleigh is the Contemporary Art Museum located in the downtown area adjacent to the new train station, Citrix Corporation, and the new hip, vibrant culture of what makes Raleigh the best city in America to live and work and raise a family. CAM Raleigh