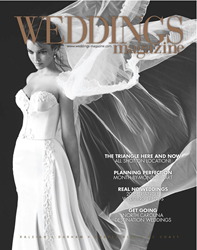 We want to focus on who our reader is and who is going to be picking this magazine up; this will be a safe space where LGBT readers will not need to worry about discrimination.
RALEIGH, NC (PRWEB) April 22, 2015
The publisher of Weddings Magazine has announced it will be launching Commit Magazine, a new publication catering to LGBT couples, in April 2016.
"Gay and lesbian couples don't pick up Weddings Magazine, so we felt we should do something for the gay community that is solely based on their interests," Robyn Mangrum, owner and publisher, said.
Same-sex marriage has been legal in North Carolina since last October, but Mangrum explained that as the months passed, the magazine noticed that many vendors were still turning down requests from gay couples.
"A wedding is something any couple, not just a heterosexual couple, is excited about, and to be refused service is disheartening to the community," Mangrum said. So she had the idea to start a magazine that would help gay couples find venues and vendors excited to help them bring their dream weddings to life.
Mangrum and her team approached some vendors she had known for a long time, and found they were very supportive of the idea of a separate magazine. The magazine company also met with the nonprofit organization Equality NC, which agreed that a dedicated publication would be a good move.
"LGBT couples planning with the help of Commit Magazine will no longer need to wonder whether or not a vendor will refuse them," Mangrum explained.
Beyond helping couples choose the right vendors, the magazine will focus on special interests that may concern gay and lesbian couples, such as paperwork, name changes and legal progress regarding same-sex marriage.
It will also include style shoots for rehearsal dinners and such, as well as real weddings of LGBT weddings in the area.
Before the magazine launches next spring, the company will need to sell advertisement space. Then the next step will be to choose some real-life weddings to feature.
Even though the first issue won't come out for nearly a year, Mangrum said a few people have already signed up. "So far, the company has been met with a tremendous amount of support and approval," she said. "I think people respect the fact that we are doing this as a separate magazine. We want to focus on who our reader is and who is going to be picking this magazine up; this will be a safe space where LGBT readers will not need to worry about discrimination."
About Weddings Magazine
Weddings Magazine caters to the Triangle area (Raleigh, Durham and Chapel Hill) providing anyone planning a wedding with valuable information and resources for their event. Weddings Magazine covers wedding planning tips, party ideas, showcases stories of real weddings, and also has a local vendor directory. To learn more, visit weddings-magazine.com