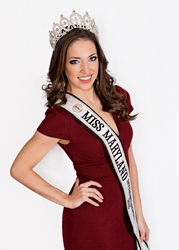 Scotch Plains, NJ (PRWEB) April 22, 2015
NJ Top Dentist, Dr. Arthur G. Scheiner, performed a smile makeover on a patient who later won the title of Miss Maryland!
Mallory Rome, a 2013 graduate of Rider University and 2009 graduate of Westfield High School recently won The 2015 Miss Maryland Intercontinental Pageant. Mallory was a Musical Theater Major in College and dreams of becoming a professional actress.
When Mallory was 10 years old, she severely fractured her front teeth in a scooter accident. And, although her teeth were successfully repaired with dental bonding, she had always been self-conscious about her smile. For college graduation her parents decided a smile makeover would make a perfect graduation gift. They sought the services of Dr. Arthur Scheiner – a highly experienced local (Westfield) cosmetic dentist. In two visits, Dr. Scheiner placed Lumineers-brand porcelain veneers – a minimally invasive and virtually painless cosmetic procedure.
"Mallory has been a patient in my office since she was 8 years old. Even before her smile makeover, she could light up the room wherever she went. Providing her with an ideal smile gave her that added degree of self-confidence. Miss Maryland is going to be just the beginning for her," said Dr. Scheiner.
Mallory says people compliment her teeth almost every day. In addition to her Miss Maryland Crown, she has already landed multiple acting roles and been featured on several television news programs.
Dr. Scheiner received his dental degree from UMDNJ - New Jersey Dental School and his undergraduate degree from the University of Pennsylvania. Following dental school, Dr. Scheiner completed a year-long general practice residency at Robert Wood Johnson University Hospital in New Brunswick, NJ. He has received certificates from the Synergy Training Program for Dental Implants and from the Great Lakes Education Center for Training in Advanced Dental Technology. He has served as President of the Central NJ Dental Study Club and is a member of the American Dental Association and Academy of General Dentistry.
Dr. Scheiner's office offers many services, including:
General Dental Services
CEREC Crowns
Dental Exam
Digital Dental X-Ray
Teeth Cleaning
Natural Colored Fillings
Dental Bridges
Dentures
Gum Disease Treatment
Endodontics
Oral Cancer Screening
Cosmetic Dentistry Services
Teeth Whitening
Smile Makeover
Porcelain Veneers
Cosmetic Dental Bonding
Cosmetic Dental Implant Restorations
CEREC
CEREC Onlays
Dr. Arthur G. Scheiner is conveniently located in Westfield, NJ. For more information and locations, visit Dr. Scheiner's online profile here: http://www.njtopdocs.com/drscheiner.
About Us
NJ Top Docs is a comprehensive information resource of Top Doctors, Dentists and Hospitals. We are profiling over 900 Healthcare Providers and have made it convenient for you to find them.
NJ Top Docs allows patients to "meet" these providers online before making their appointment.
For more information, visit http://www.NJTopDocs.com or http://www.NJTopDentists.com
You can also follow us on Facebook – Twitter – YouTube