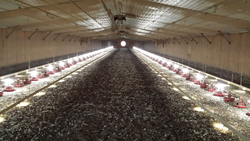 North East, Maryland (PRWEB) April 27, 2015
AHPharma, Inc., a leading manufacturer and designer of services and products for the food animal industry, has introduced a new thirty (30) day money back guarantee covering the installation and use of the company's new AviLighting™ Feeder Light, AviLighting™ Water Light products and related equipment. These new low wattage LED systems were specifically engineered by AHPharma to enhance the consumption of water and feed by modern-day poultry, especially during the first week of life.
The AviLighting line includes drinker, control pan, feeder, layer/cage and backyard flock water feeding systems operating at 24 volts to increase the system's light intensity, and the ability to consistently deliver biologically-humane LED lighting to poultry according to animal welfare humane requirements. In addition, each washable AviLighting LED light strip consumes 1/4W compared to >8W for standard ceiling LEDs, >23W for CFLs and >60W for incandescent bulbs. AviLighting is also available with dimmable solutions and all the components needed to easily install the system in poultry facilities of all sizes & configurations.
Extensively field tested in commercial farms, the AHPharma Money Back Guarantee was developed to cover the AviLighting Feeder Light, AviLighting Water Light and all related equipment, including (but not limited to) DC-drivers, Easy Plug® and dimming devices. As stipulated by AHPharma, Each Avilighting solution is guaranteed to perform as follows:
-- For Days 0 (or day of hatch) to 4-days of age, AviLighting will attract >85 percent of birds within the feeding and watering areas
-- Lighting energy usage is reduced by at least 75%, 40% or 15% of historical energy lighting cost, when compared to incandescent bulbs, CFLs or quality ceiling >10W LEDs
-- Additionally, if any two of the following criteria experience a significant degradation when employing AviLighting products, a full refund will be granted. This includes:
--Mortality increases by 25% or more
--Body weight decreases by 25% or more
--Body weight uniformity decreases by 5 percent
For more information on the AviLighting™ Money Back Guarantee including specific program details and return policies please contact AHPharma Energy Systems, Inc. | 443-260-2499 | info(at)ahpharma(dot)com
# # # #