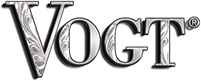 In the jewelry market, a lot of what you see is more cosmopolitan. These products give a Western-tinted theme to these otherwise traditional accessories.
Woodland, CA (PRWEB) April 22, 2015
Vogt Silversmiths' Bar V Ranch x VOGT line of accessories is being expanded to include new pieces that keep up with changing trends. The line is being supplemented with men's Western jewelry, bolo ties, and knives. The new additions became available at the end of March, though the men's accessories and bolo ties were featured at a dealer market in January.
Bolo ties go in and out of style as Western influence comes into fashion. Featuring hand-braided cords and engraved silver aglets, bolo ties are the official neck wear of Arizona and New Mexico. Fashionable men in Korea, China, and Japan have also contributed to the bolo tie's increasing popularity, pairing them with ornate belt buckles and other accessories.
"People will be able to find bolo ties out there in the market, but these will range from $19 to $49. We found that people want a higher quality of this product that has a custom jewelry appearance," explained Vogt Silversmiths Owner Casey Vogt. He went on to add that vendors and customers alike had been requesting bolo ties of late. The Vogt Silversmiths bolo ties are priced at $99, and feature Western iconography like longhorns and stars on their three-dimensional conchos.
Another frequent request is men's Western jewelry, specifically bracelets. Designed to fit men's wrists and make a statement, the new bracelets are available in barbed wire, hammered copper, and silver. Many of the bracelet designs coordinate with Vogt Silversmiths' line of belt buckles. Men's bracelets were offered by Vogt Silversmiths in the past, but had recently fallen out of fashion. Men's bracelets are still largely unexplored as an option for Western fashion.
"It's a niche that hasn't been addressed in the Western lifestyle. Our men's products are definitely meeting a demand that hasn't been seen in the last five to 10 years," stated Casey Vogt. While Vogt Silversmiths hand makes their bracelets out of copper, which is known to have anti-inflammatory properties, they are to be used expressly for aesthetic purposes. The bracelets' prices range between $89 and $219.
The last line to be expanded is the leg knife line. Initially, Vogt Silversmiths offered five knife designs, but these proved to be so popular that the company decided to expand the line. The knives were especially popular with bridal parties for people who opted for Western-themed weddings.
One of the most exciting new designs is a two-inch knife shaped like a woman's leg with an engraved stiletto and resin center. The leg knife is available in 10 colors such as black marble, hot pink, and tortoiseshell, as well as in the company's traditional silver. The knives are priced between $49 and $69, though the silver option will cost $219.
Casey Vogt expressed excitement about the new options for Western wear.
"In the jewelry market, a lot of what you see is more cosmopolitan. These products give a Western-tinted theme to these otherwise traditional accessories." The new products can be found on Vogt Silversmiths' website, with shipping available nationwide and internationally.
About Vogt Silversmiths
Vogt Silversmiths sells belt buckles, men's accessories, western jewelry, leather items and more. Many of their pieces are handmade and hand engraved, and Vogt Silversmiths purchases are protected by a lifetime guarantee. To learn more about their products, visit vogtsilversmiths.com