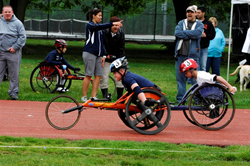 Mountainside, New Jersey (PRWEB) April 22, 2015
Children's Miracle Network Hospitals at Children's Specialized Hospital and the NJDC2015NJ organizing committee are pleased to announce they will be hosting the 2015 National Junior Disability ChampionshipsTM (NJDC). Competitive events will take place in Union County Parks (Warinanco, Rahway River and Oak Ridge) and the Cranford Indoor Pool from July 18 – 24, 2015. Children's Miracle Network Hospitals at Children's Specialized Hospital, is proud to host and be the presenting sponsor for this year's event. Children's Miracle Network Hospitals® raises funds and awareness for 170 member hospitals that provide 32 million treatments each year to kids across the U.S. and Canada. Additional sponsors include Challenged Athletes Foundation® (CAF), Union County Board of Chosen Freeholders and Wheelchair and Ambulatory Sports, USA.
Over 250 physically disabled athletes from across the country, including athletes from two New Jersey teams (Children's Lightning Wheels and North Jersey Navigators), will compete. The qualifying athletes, ranging in age from 7–22, will compete in Paralympic style events including track, field, pentathlon, swimming, powerlifting and archery. This national competition celebrates athletes who have a physical disability and either use a wheelchair or use walkers, crutches, wear orthotics or leg braces, or may have difficulties with physical coordination.
For many of the athletes this is the highest level of competition they will achieve and for others it is the stepping-stone to go onto international and Paralympic level events. It is the culmination of months, even years, of practice where athletes can compete amongst their peers. For many parents it is the realization that their athlete can achieve, and has achieved, something that many, including themselves, never thought possible. For the volunteers and spectators it is a time for reflection and recognition of the positive, can-do attitude that these athletes have – a real lesson for all. For the organizers and supporters it is an opportunity to host an event that will be memorable for all - one that celebrates the athletes and their accomplishments. NJDC is an event that shouldn't be missed.
For more information including the games event schedule or how to be a sponsor or volunteer your time please visit the games website, http://www.NJDC2015NJ.com or info(at)NJDC2015NJ(dot)com.
Children's Specialized Hospital is the nation's leading provider of inpatient and outpatient care for children from birth to 21 years of age facing special health challenges — from chronic illnesses and complex physical disabilities like brain and spinal cord injuries, to developmental and behavioral issues like autism and mental health. At thirteen different New Jersey locations, our pediatric specialists partner with families to make our many innovative therapies and medical treatments more personalized and effective...so children can achieve more of their goals. To help, or find more information: call 888-CHILDRENS; visit http://www.childrens-specialized.org; Facebook: http://www.facebook.com/childrensspecialized; Twitter: http://www.twitter.com/childrensspecnj; YouTube: http://www.youtube.com/cshnj; LinkedIn: http://www.linkedin.com/company/children's-specialized-hospital