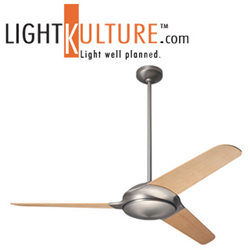 The clean lines, scale and attention to detail of The Modern Fan Company enable their use in hotels, restaurants, corporate offices, retail stores and homes like yours.
New York, NY (PRWEB) April 23, 2015
LightKulture.com is ready for the summer with 3 new models from The Modern Fan Company." The Modern Fan Company is the original source for contemporary ceiling fans, producing the most complete collection of modern ceiling fans available," noted Susan Inderbinen President of LightKulture.com. WIth the introduction of The Modern Fan Company Flow, Torsion and Solus, designer Ron Rezek continues his legacy of creating products that are technically and artfully appealing. These fans will be as relevant years from now as they are today. The simple geometric forms and contemporary metal and painted finishes, with choice of wooden blade, are intended to meet the needs of the professional specifier and the design-minded homeowner. Modern Fan Company continues to infuse the ceiling fan with creativity and pragmatic approach to design. Selecting the right fan takes into account a number of factors such as ceiling height, blade diameter, lighting, controls, and the slope of the ceiling for the best performance inside and out. All Modern Fan Company fans are damp rated ceiling fans; none are intended for wet locations.
The Flow fan is a clean, streamline 3 bladed fan with optional light kit. Available in gloss white or matte nickel, this 52" blade diameter moves 6631 cfm's (cubic feet of air per minute), in many cases, 3 bladed fans move more air than 4 or 5 blade fans. With 3 blade colors to choose from, white, nickel or bamboo, and light kit options in halogen or fluorescent, Flow makes a cool statement in any room. This fan offers an optional in-wall or hand held remote. Another new 3 bladed ceiling fan with light option is the Torsion. With 6247 cfm's this model comes in white, bright nickel and dark bronze with optional blade finishes and sizes from 42"-62". The optional light kit styles are available in halogen or fluorescent and optional hand held remote or in-wall control. The new Solus fan with 5848 cfm's is the only 5 blade introduction this year. Available in gloss white or aluminum, with choice of halogen or fluorescent light kits, the 3 blade finishes – white, aluminum or maple – allow the professional designer or homeowner a number of choices to create a personal expression of style.
For more information go to:
Modern Fan Company - http://www.lightkulture.com/brands/Modern-Fan-Company.html
Modern Fan Company Introduces 3 New Models to Beat the Heat with Style; Now Available at LightKulture.com
"I have a soft spot in my heart for ceiling fans. The comfort and energy savings of adding a ceiling fan into your life is much easier than you think. While using a professional installer is recommend, those who are handy can easily install any Modern Fan Company fan on a standard 8' ceiling yourself with a step-stool and a screw driver. The clean lines, scale and attention to detail of Ron Rezek ceiling fans by The Modern Fan Company enable their use in hotels, restaurants, corporate offices, retail stores and homes like yours. Every Modern Fan is suitable for damp location. The intensity of outdoor environments will have an impact on the finishes. While you can expect years of trouble free performance, many factors must be considered when selecting a fan for damp location. Whether used indoors or out, selecting a Modern Fan model will add crisp contemporary style to your loft, bedroom, family room, patio or any public space. We enjoy selling The Modern Fan because they have been trouble free, right out of the box," noted Susan.
About LightKulture.com
At LightKulture.com, our mission is to offer the finest energy efficient contemporary lighting and light fixtures from around the world. We have assembled an exciting collection of the industries most innovative decorative and architectural lighting.We are proud to offer lighting solutions for both your home and work-life environments. Simplicity is design is complicated, function makes it last. Be inspired by our range of essential designs from well respected American and European manufacturers. In today's world, energy efficient lighting is as important as eco-friendly or green lighting fixtures, such as LED or CFL lighting. We offer the very best energy efficient lighting and light fixtures, both high value LED lighting fixtures and CFL lighting fixtures in modern and contemporary styles that provide quality, innovation and authenticity.
LightKulture
http://www.lightkulture.com/
Email. sales(at)lightkulture(dot)com
Tel. 941-330-0422