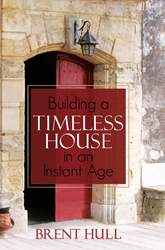 a persuasive and enjoyable reminder that our homes are reflections of ourselves.
Dallas, Texas (PRWEB) April 23, 2015
In this instant age of more-for-less mentality, what will our houses say about us 100 years from now? Will our homes be defined by their craftsmanship, heritage and integrity to detail? Will future generations appreciate the beauty of the architectural design and lasting character displayed in the smallest artistic nuances? Or will they be seen as mere "tools for living"? The decisions we make for our homes are not inconsequential. According to author and master craftsman Brent Hull, what we build defines us.
Brent Hull, nationally recognized as an authority on historic design, discusses these questions and more in his latest book Building a Timeless House in an Instant Age (Brown Books Publishing Group), which was recently honored as a Foreword Reviews INDIEFAB Book of the Year finalist in architectural non-fiction. Trained in the art of museum quality preservation at the prestigious North Bennett School of Boston, Hull believes "each house is a storybook, not a secret diary. It is a proclamation of faith, beliefs and values."
Kirkus Reviews calls Building a Timeless House "part call to action, part exploration of technique, the result . . . a persuasive and enjoyable reminder that our homes are reflections of ourselves." The book is Hull's passionate and expertly written reminder to readers that the ultimate embodiment of craftsmanship and rustic know-how is a well-built house – going on to consider whether, as Hull states, "we need to wonder if building cheap homes doesn't cause us to become a cheap culture."
Hull, who is the owner and president of Hull Historical based in Fort Worth, Texas, shares the history of the timeless homes reflected in the architecture of the Renaissance through the early 1900s, where the character of buildings and the character of community were thought to be closely tied. In contrast, the new homes of today are often gaudy, built without care, design philosophy or any lasting appeal.
"My main goal in writing this book is to help people understand that the house they build defines them and in turn defines our society," states Hull. He teaches valuable lessons that might otherwise be lost in the technology obsessed and materialistic world we live in today. Inspiring, informative and motivating, Building a Timeless House in an Instant Age provides readers with the tools to begin their own journey of telling their thoughtfully crafted story.
For more information or to order the book, please visit http://www.thetimelesshouse.com
###