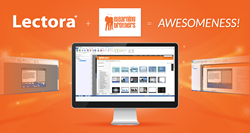 "Imagine having a library of templates at your fingertips directly in your eLearning authoring tool. Now imagine new templates added monthly. That's what happened." - Andrew Scivally
AMERICAN FORK, UT (PRWEB) April 22, 2015
eLearning Brothers and Trivantis, the maker of Lectora, announced today that for the first time in eLearning history, an eLearning template provider and an authoring tool have combined forces to create an unprecedented eLearning solution. Trivantis integrated the eLearning Brothers Templates, Cutout People Libraries, and Interaction Builder directly into Lectora Inspire 12.1. This integration gives training developers instant access to a constantly growing library of 1,000s of templates and assets to rapidly create engaging, interactive, and inspiring courses.
"Imagine having a library of templates at your fingertips directly in your eLearning authoring tool. Now imagine new templates added monthly. That's what happened. Developers can now download templates directly into Lectora Inspire to create eLearning awesomeness," said Andrew Scivally, Co-Founder of eLearning Brothers.
Lectora Inspire 12.1 is a transformative, easy-to-use eLearning authoring tool that grows with you. The eLearning Brothers libraries and Interaction Builder contain games, cutout people images, quizzes, scenarios, course starters, player skins, page layouts, and interactions. Assets are directly imported into a Lectora course which can then be easily modified or learned from. This eliminates file management issues, time spent between the tool and websites, creative block, and external subscription costs. Lectora Inspire users can now directly access a game, for example, and have it customized and working in minutes.
"We are thrilled to provide the planet's largest template library to our customers directly in Lectora at no additional cost. Everyone in the eLearning world saw a day when templates would be directly integrated into authoring tools. Trivantis is happy to be the first to make it happen," said John Blackmon, CTO of Trivantis.
This integrated solution creates a seamless environment where developers no longer have to look at a blank white screen when they open their authoring tool. Now they can use templates to create highly interactive, and visually engaging courses in a fraction of the time... and never have to leave the tool.
For further details: http://www.eLearningBrothers.com/trivantis | http://www.lectora.com/products/inspire-e-learning-software