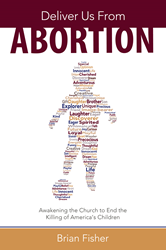 The video demonstrates the mindset of those not skewed by public opinion or what others say is right or wrong.
Dallas, TX (PRWEB) April 28, 2015
When Brian Fisher, President and Co-Founder of Dallas-based Online for Life, wrote his newest book, Deliver Us From Abortion: Awakening the Church to End the Killing of America's Children, his objective was to convince the church to step up and address the issue of abortion.
"There are wonderful examples of Protestants and Catholics standing for the unborn and their families. But much of the church is silent," said Fisher. "A mixture of fear, ignorance, passivity, and a lack of understanding of the Bible cause it. That's what I'm hoping the book helps resolve. It should instill confidence, educate, provoke and instruct church leaders."
Online for Life is taking it a step further with their recent release of the new Deliver Us From Abortion video (https://www.youtube.com/watch?v=a9--Rf1K9aA). In the video, children respond to questions regarding the life of innocent children and give unexpected answers.
The 4:30 minute interview extracts the most innocent answers from children. Questions ranged from "what superpower would you like to have?" to "would you ever hurt a baby?"
When asked if they would ever hurt a baby, one child answered "why would I hurt them? They are little." The host then asked if it was okay to hurt a baby in mommy's tummy, to which the child answered "no."
"The video demonstrates the mindset of those not skewed by public opinion or what others say is right or wrong," said one Online for Life representative. "The answers of the children indicate the purest thought – that killing a child at any stage of life, in or out of the womb, is wrong."
For more information go to http://www.deliverusfromabortion.com
Online for Life rescues babies and families from abortion by connecting abortion-minded women and men to local, life-affirming centers using compassion and technology. The at-risk family receives grace, factual information, and an ultrasound. Brian Fisher is the CEO and Co-Founder of Online for Life, a successful business man, and the author of four books, including the January 2015 release of "Deliver Us From Abortion: Awakening the Church to End the Killing of America's Children."