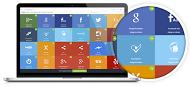 We are really excited to partner with TapAnalytics, they have one of the most robust analytics programs we have seen for ad agencies and media buyers.
San Jose, CA (PRWEB) April 23, 2015
TapClicks announced the availability of release 4.7 of TapAnalytics, the on-demand campaign reporting, performance and analytics platform for digital agencies and marketers. This new release includes support for several additional digital marketing solutions: ReachLocal, El Toro, MediaProwler, Mocentric, NDN, and YaSabe. TapAnalytics unifies a broad spectrum of third-party marketing campaign tools, allowing digital agencies and media companies to show their clients a unified dashboard. Automated, comprehensive reporting saves time and operational costs, while advanced analytics improve marketing ROI.
New integrations of commercial solutions include:
● ReachLocal, Inc. provides more customers to local businesses around the world with leading technology, more than a decade's worth of insights and expert service for their clients' lead generation and conversion. ReachLocal's Total Digital Marketing System includes ReachSearch, a leading search engine advertising product that generates more leads from consumers who are looking to make a purchase. ReachLocal believes that marketing doesn't have to be judged by only clicks, but can be linked to new customers and real return on investment. http://www.reachlocal.com
● El Toro does IP targeting of web ads, giving advertisers the ability to reach their intended online customer base for pennies on the dollar with surgical accuracy, at the exact time of their choosing. El Toro unique technologies allow clients to precisely target their customers online using banner and display ads, with access ads on over 1,000,000 websites that include 30-50 billion advertising impressions per day. Popular sites where El Toro places ads include Google, MSN, Facebook and Yahoo! http://eltoro.com
● Media Prowler is an email, data, and digital specialist, producing real results and focusing on using that data to elevate the success of client companies. They have very strong partners in the media industry, all of whom have successfully added Media Prowler products to their sales inventory. Their new technologies are transforming what's possible, connecting brands to consumers like never before. Through Media Prowler, partners have access to the highest quality business and consumer databases. Media Prowler is a leader in the online marketing industry due to core values: transparency, integrity, and legitimacy. http://www.mediaprowler.com
● Mocentric is the world's first scalable self-serve, local, mobile advertising platform to empower local ad agencies and their local clients to run mobile campaigns. Mocentric's simple web-based dashboard and industry-leading mobile technology allows users to target mobile users with geographic precision, quickly, at an affordable budget and competitive CPM price points. Mocentric offers high-performance local mobile advertising, a focus on local ad agencies, serving trusted local and national news outlets and lifestyle brands. http://mocentric.com/
● NDN delivers premium, real-time content, global reach and optimized revenue, all at no cost. The Digital Media Exchange is utilized by over 4,500 top publisher sites, and drives audience engagement, increases traffic and generates new revenue through free access to the broadest offering of premium content, cutting-edge player products and reliable ad operations support. Content creators exponentially increase their audience reach by showcasing video in premium positions on top publisher sites while benefiting from NDN's revenue generation. For national advertisers, NDN's Digital Media Exchange is a transparent, brand safe platform designed to reach a highly engaged, premium audience. http://www.newsinc.com
● YaSabe is the #1 provider of location-based information for U.S. Hispanics. The company has connected millions of users to local businesses, coupons, and classified ads for jobs and cars. YaSabe's technology platform crawls, aggregates, translates, and curates bilingual and culturally relevant local information, and makes it available on web and mobile at YaSabe.com and its syndicated partner network. For content and media partners, YaSabe provides its technology platform, as well as programmatic and performance-based digital marketing products and services, to help local businesses and national brands reach U.S. Hispanic audiences online. http://www.yasabe.com
TapAnalytics delivers a single, comprehensive view of all campaigns, marketing tools and services, including these new integrations, so marketers can easily relate their results to their businesses. Using the TapAnalytics platform, marketers can automatically generate and view results, reports, key performance metrics, and deep analytics in an integrated environment.
"We are really excited to partner with TapAnalytics, they have one of the most robust analytics programs we have seen for ad agencies and media buyers. TapAnalytics' combination of powerful features and flexibility was very important to both El Toro and our agency partners," commented Stacy Griggs, President/CEO of ElToro.com. Michael O'Hara, President of Mocentric, added: "We've integrated with others before, but I must say the depth of technical knowledge, class and professionalism of TapClicks sets them apart."
TapAnalytics has enabled over 1,000,000 dashboards worldwide, at digital agencies and their clients, local media agencies, and enterprises spanning automotive, travel, real estate and more.
About TapClicks
TapClicks, Inc. is an adtech company that delivers complete digital marketing reporting and analytics platforms to digital agencies, media companies, and enterprises, for improved marketing ROI. Its suite of products includes flagship TapAnalytics, which consolidates marketing campaign information and performance results into a unified digital dashboard, with automated reporting and analytics. TapClicks was founded in 2009, and operates out of offices in Silicon Valley, Boston, Canada, India and Mexico. For more information, please visit http://www.TapClicks.com.