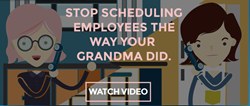 At all too many companies, employee scheduling has become a rote exercise. EmLogis helps companies put meaningful thought into every employee schedule.
Houston, TX (PRWEB) April 22, 2015
EmLogis, a leading provider of automated employee scheduling software, today announced the release of a new "storybook" video that shows why companies should rethink their employee scheduling processes for positive business results. EmLogis' gives companies more insight and control over their employee scheduling needs and requirements while also saving time and improving communication with employees.
EmLogis new "Employee Scheduling Storybook Video Chapter 1" can be viewed free of charge on EmLogis' corporate website here: http://www.emlogis.com/
Many businesses rely on "tribal lore" when deciding how many employees should be scheduled hour to hour and day to day. EmLogis advocates that companies should rethink their employee scheduling methods and processes. EmLogis helps companies easily identify their exact needs for labor by location, skill, and/or time of day to match the operating requirements. EmLogis makes scheduling employees easier, faster, and helps make sure that the right people are in the right places at the right times. With EmLogis' "schedule optimization engine," companies can create the "best" schedule every time based on cost, employee preferences, company rules and more. EmLogis shows companies exactly where employees are needed, when and what labor costs are associated with each schedule or with a schedule change. Furthermore, if open shifts need to be filled, EmLogis can automatically provide the scheduler with a list of available, qualified employees and makes it easy to contact them via email, text, or phone.
"At all too many companies, creating the employee schedule is a rote exercise," said Mark Kirkland, Vice President of Products at EmLogis. "EmLogis' automated employee scheduling tools that help companies put meaningful thought into each and every employee schedule. With EmLogis, companies can ensure that every schedule is the best on many levels including cost, overtime, employee preferences, rules, regulations, and more… whatever the company sets as a priority."
About EmLogis
EmLogis offers web-based, automated employee scheduling software is specifically designed for challenging and complex employee scheduling environments – such as those that require 24 x 7 x 365 staff coverage and have demanding staffing-level requirements, skill-level requirements, or strict compliance requirements. These requirements are often found in Corrections Staff Scheduling, Long Term Care Staff Scheduling, Dialysis Staff Scheduling, as well as many other Public Safety Staff Scheduling and Healthcare Staff Scheduling situations. EmLogis provides a powerful, easy-to-use employee scheduling solution that is easy to install and use and is entirely web-based, requiring no installation, no hardware, and no upgrades. EmLogis' employee scheduling software is proven to reduce staffing costs, ensure staffing level compliance requirements and increase employee satisfaction. Unlike other employee scheduling solutions that can cost hundreds of thousands of dollars and can take a year or more to set up, EmLogis is easy to use, affordable, and can take as little as 14 days to implement.
Headquartered in Houston, Texas, EmLogis serves customers worldwide primarily in Corrections, Public Safety, Healthcare, and Long Term Care environments. Contact EmLogis at +1-888-302-9830 or visit http://www.emlogis.com for more information.
EmLogis and SmartRules Scheduler™ are trademarks of EmLogis Inc. in the United States and other jurisdictions. All other company and product names may be trademarks of their respective companies.