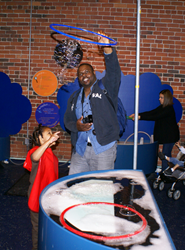 Play is the way children learn about the world and is absolutely essential for children's healthy cognitive, social-emotional, and physical development.
Boston, MA (PRWEB) April 24, 2015
Boston Children's Museum announced the Power of Play Festival (May 8 and May 9) and Parent Play Night (May 9). These first-time events highlight the importance of play for both children and adults and have been made possible with generous support from global learning company Houghton Mifflin Harcourt, the events' exclusive sponsor.
With free outdoor hands-on play activities taking place along the waterfront and innovative, hands-on, self-directed play experiences throughout all exhibits within the Museum, the Power of Play Festival will showcase the critical benefits of play for children. The Power of Play Festival is a family celebration of play for children of all ages and their adults. At Parent Play Night, adults will have the opportunity to rediscover the power of play for themselves (without the kids). Parents and grandparents can reconnect with their own sense of play and also gain better understanding of the Museum from a child's point of view.
"Play is the way children learn about the world and is absolutely essential for children's healthy cognitive, social-emotional, and physical development. Yet, for a variety of reasons, opportunities for play are declining," said Anna Housley Juster Ph.D., Sr. Director, Child Development & Community Engagement at Boston Children's Museum. "When we invest in children's play, we invest in their potential – their capacity for learning, for joy, and for innovative thinking. These two new Boston Children's Museum events celebrate all children's potential, and we are thrilled to be collaborating with our sponsor, Houghton Mifflin Harcourt."
Highlights of the Power of Play Festival include a Loose Parts Playground tent outside the Museum with Imagination Playground Blocks and other materials for building and pretending; Sidewalk Math using hopscotch art to build math skills; and Ice Play. Indoor activities include Bubble Play; Air Play; Family Fort Building; Cardboard City, where visitors can build with cardboard, tubes, and tape; an Interactive Drumming activity, and all of the Museum's engaging exhibits.
"We know that children learn best through play and exploration, and that early education is vital to healthy growth and development," said Mary Cullinane, EVP and Chief Content Officer, Houghton Mifflin Harcourt. "We share Boston Children's Museum's commitment to providing young children with dynamic learning experiences, and we're thrilled to partner with the Museum to encourage families to embrace curiosity and experience the power of play together."
Since many parents do not typically have time for play in their own lives, with much of their time spent in the logistics and daily responsibilities related to child care, the Museum has created Parent Play Night just for parents and grandparents. Parent Play Night will include many elements of the Power of Play Festival – fort building, design challenges, creative art activities, classic games, juggling lessons – plus the opportunity to explore the entire Museum: climb the climber, play in bubbles, race golf balls, and much more! The Museum will also offer a Play Workshop or "Playshop" for parents who want to learn more about the importance of play for children's wellbeing and learning, as well as tips for supporting play and advocating for play in children's everyday lives. There will be a cash bar and food for purchase.
All outside activities are free and open to the public. Friday, May 8 from 5-9pm is Target $1 Friday Night. General Admission fee includes all inside the Museum activities. Tickets to Parent Play Night must be purchased in advance at http://www.bcmparentplaynight.eventbrite.com.
About Boston Children's Museum
Boston Children's Museum engages children and families in joyful discovery experiences that instill an appreciation of our world, develop foundational skills, and spark a lifelong love of learning. More information about Boston Children's Museum can be found at http://www.BostonChildrensMuseum.org. Become a fan of the Museum on Facebook and follow us on Twitter
Hours and Admission
The Museum is open daily from 10:00 a.m. – 5:00 p.m. and Fridays until 9:00 p.m. Adults, $14, children (1-15) and senior citizens, $14; children under 12 months and Museum members are always free. Fridays 5:00 p.m. – 9:00 p.m., all visitors $1.
About Houghton Mifflin Harcourt
Houghton Mifflin Harcourt (NASDAQ:HMHC) is a global learning company dedicated to changing people's lives by fostering passionate, curious learners. As a leading provider of pre-K–12 education content, services, and cutting-edge technology solutions across a variety of media, HMH enables learning in a changing landscape. HMH is uniquely positioned to create engaging and effective educational content and experiences from early childhood to beyond the classroom. HMH serves more than 50 million students in over 150 countries worldwide, while its award-winning children's books, novels, non-fiction, and reference titles are enjoyed by readers throughout the world. For more information, visit http://www.hmhco.com. Follow HMH on Twitter, Facebook and YouTube.
###