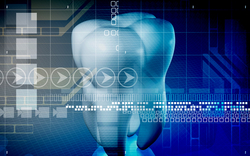 Ellenton, FL (PRWEB) April 23, 2015
The dentists of North River Dental are pleased to announce the integration of new advanced dental care technology at their practice: Carestream's 3D digital x-ray system, along with Carestream's digital impression scanner and accompanying milling unit. These dental care systems enable the team to provide better treatment with exceptional benefits to both patients and the dental care professionals at the practice.
Carestream CS9300 3-D Imaging System for X-rays
Carestream 3D x-ray technology allows dentists to take a three-dimensional scan of a patient's mouth rather than a traditional two-dimensional x-ray image. This is accomplished through the use of the CS9300 Imaging System, which safely and effectively takes the 3D x-ray. Being able to assess the teeth, gums, and other tissues from 360 degrees allows for enhanced diagnostic care and improved ability to identify issues that affect the health of a patient's smile.
The 3D x-rays taken by the CS9300 are particularly helpful when planning dental implant placement for patients who are missing teeth. Using this three-dimensional x-ray, a virtual implant dentistry treatment can be planned. Ideal placement of each implant can be determined ahead of time with exceptional accuracy and fully customized restorations can be fabricated in accordance with this virtual surgery. This imaging technology leads to greater implant stability and improved overall dental health.
Carestream Digital Scanning and In-Office Restoration Milling
The Carestream digital scanner eliminates the need for traditional dental impressions. The traditional impressions of the past involved the use of a gooey, malleable material in dental trays that were placed in a patient's mouth. This could be uncomfortable and unpleasant. The Carestream digital scanner eliminates the need for the uncomfortable trays, creating an accurate three-dimensional image of the patient's mouth.
This scanner is used in conjunction with the in-office milling unit. Using the information from the digital scanner, the milling unit crafts custom dental crowns so the dentists can restore teeth affected by decay and/ortrauma. In the past, it was necessary for dentists to send their impressions to an off-site dental lab, requiring patients to wear temporary restorations and then visit the practice for a follow-up appointment at a later date. The on-site milling unit means that patients can receive their dental crowns in just a single, convenient visit.
Continued Commitment to Advanced Dental Care Technologies and Systems
The dentists of North River Dental will continue to integrate advanced technology into their practice as new systems for care are developed. These major strides forward in dental care treatment will allow the team to perform excellent work, so patients can have the healthiest and most beautiful smiles possible.
About Carestream Dental
Carestream Dental is a leader in dental care technologies and practice management solutions. Established in 2007, it is estimated that 7 in 10 dental health professionals use products by Carestream Dental at their practice.
Contact North River Dental
To learn more about advanced 3D imaging and many other advanced diagnostic tools available, contact North River Dental. Interested parties can also get in touch with the practice by using the information below.
North River Dental
3030 U.S. Highway 301 North
Ellenton, Florida 34222
Phone: (941) 722-0502