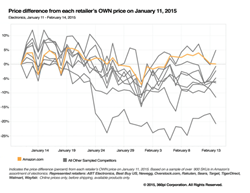 Winners know it's about delivering a unique value proposition to customers vs. price matching Amazon using such tactics as localized pricing and assortment, private label, and personalization.
(PRWEB) April 22, 2015
Ottawa, Canada: 360pi, the leading provider of price and product intelligence for retailers and brands, today issued a new report analyzing pricing dynamics of categories at various stages of online maturity. The report examines Amazon's ambitions to be the perceived price leader in all categories and looks at three distinct segments as examples of Amazon's competitive strategy. It focuses on electronics as an example of a mature e-commerce category, auto parts as a nascent but growing e-commerce category, and patio and garden goods as a category that falls in-between.
According to 360pi's pricing data:
Retailers in electronics category have clearly claimed their pricing strategies, but do try to "rock the boat" with short-term promotions and dynamic price changes.

Compared to the garden and patio goods category, 360pi's analysis shows more pricing volatility in the electronics category.
Some of the retailers dropped their average price by as much as 28% and raised it by as much as 13% in the same time period, with significant changes made every day.
As well, Amazon's next highest price competitor never came closer than about 2-3% above its price, a sign of more aggressive pricing by Amazon.
The patio and garden goods category has grown into a more price transparent category, compared to auto parts.

Traditionally known as the domain of brick and mortar mass merchants, this category is becoming more prominent online because the products are easier to compare and there is more assortment overlap between retailers.
360pi's analysis shows that since Amazon has been playing in this category for a longer time, they have perfected their price position on a broader category level, compared to auto parts.
Another key pricing pattern in this category is orderly and flat competitive positioning. While the category is highly price-dynamic, most of the players have established pricing rules designed to maximize margins while maintaining sales. This means the relative competitive position of the sampled retailers remained consistent even through waves of price changes.
The auto parts category lacks significant assortment overlaps, pointing to a relative "traditionalism" still prevalent in the online automotive market.

In many cases, these retailers still retain exclusive, dedicated relationships with brands and feature mostly unique assortments.
Additionally, according to 360pi and another sign that this category is just starting to grow online, some retailers price the same products at over 50% higher than Amazon.
The report also shows that Amazon's price dynamism in this category hovered around 5% of assortment re-priced daily, which is significantly lower than in the other categories.
"It is evident that Amazon's commitment to maintaining their image of the low-price leader will continue to spread into additional categories. What remains less clear is how brick and mortar retailers, speciality online pure plays, and other mass retailers will counter the drive to rock-bottom pricing," said Jenn Markey, vice president of marketing for 360pi. "We continue to see a stratification of retailers into winners and laggards. Winners know it's about delivering a unique value proposition to customers vs. price matching Amazon using such tactics as localized pricing and assortment, private label, and personalization."
Methodology
360pi took three samples from Amazon's assortment and matched them to a selection of online pure plays and category killers and/or mass merchants in each category. The analysis includes online before-shipping prices on available products only. The sample sizes of each category were:

Electronics: over 900 SKUs in Amazon's assortment
Automotive: over 4,000 SKUs in Amazon's assortment
Patio and Garden Goods: over 600 SKUs in Amazon's assortment
Click here to subscribe and receive 360pi's complimentary category-specific benchmark pricing reports.
About 360pi
360pi derives profitable insights from product and pricing big data to help leading omnichannel retailers, etailers, and brand manufacturers compete and win with shoppers. 360pi's customer base accounts for over $US200 billion in annual product sales and includes Ace Hardware, Build.com, and Overstock.com, along with several Fortune 500 consumer products companies. With the majority of in-store purchases being influenced online, 360pi helps retailers and brands successfully navigate the multi-channel landscape with real-time insight into who is selling what, where, and for how much. Ultimately, this lets 360pi customers make smarter decisions faster to drive increased revenues and margins across all channels.