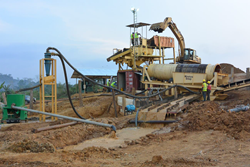 Utilizing smart extraction methods and instant land reclamation.
Worcester, MA (PRWEB) April 30, 2015
Richard Domaleski, CEO of Mansfield Mining LLC, announced that his company has successfully completed Phase 1 of their pitting program in Ghana. Mansfield Mining is a company that goes a step beyond collaboration and creates innovative micro-economies in host countries like Ghana; making it a leader in responsible mining. Mr.Domaleski assembled the very best team of experts with modern innovation and sustainable practices to strategically pinpoint maximum gold content in Ghana, utilizing smart extraction methods and instant land reclamation.
Mansfield Mining leased 55,000 acres in Obusai, Ghana, to harvest gold and started Phase 1 in May 2013. Over the last 6 months of Phase 1 Mansfield Mining made substantial progress in their pitting program (over 300 pits completed) of which the 100 initial pits have indicated a promising quantity of gold concentration to be found in future pitting stages.
After several months of hard work, and ahead of schedule Mansfield Mining has managed to triumph through Ghana's heavy rain season and successfully assembled a gold plant in November of 2014 to begin Phase 2. Phase 1 bulk samples have uncovered a strip of gold deposits along the Gyimi River which is approximately 400 meters long x 50 meters wide x 1.5 meters deep for 30,000 m3 of gravel. The recovered grade is expected to be 0.4 g/m3 for a total of 350-400 fine ounces of gold worth over $400,000 USD. The second sample at Pompo is similar and will be completed after the Gyimi River sample is done.
Mr. Domaleski anticipates to receive Bulk Sampling Permits from the Minerals Commission that approved Mansfield Mining 110,000 m3 sampling along the Gyimi and Pompo Rivers and also made provision for a much larger sample if needed. When the two samples are completed, it is estimated to have recovered almost one million US in gold.
A total of 63 pits were completed in December with grades and thickness recorded. The remaining 62 pits to bring the total to 400 that will be completed before the Feasibility Study can begin.While the Feasibility Study is still underway the gold plant will help provide a higher level of confidence in the pit sampling and engineering data for the design of the larger commercial plant and mining operation.