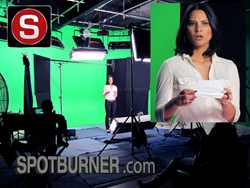 I created Spotburner as a means to provide premium content at a fair price, with a guaranteed turnaround time.
Westlake Village, CA (PRWEB) April 28, 2015
Spotburner, a new full service digital ad agency, is changing the face of digital advertising through a unique combination of in-house production, content distribution and guaranteed turnaround time. The company offers clients a "one stop solution" by helping them produce innovative branded content both professionally and inexpensively. With one of the most renowned studios in Burbank California as a base, and a team of experienced producers, directors, cinematographers and editors, everything can be done in house. Spots are produced and uploaded for client's approval on any device, within a week, reducing both lead-time and cost to the client.
Veteran Commercial Producer, Bob Bekian, conceived the idea for Spotburner in July of 2014. Bekian has produced over 800 commercials, web spots, and broadcast projects, over the course of his career, by way of his production company, Loyal Studios. Bekian created Spotburner with the goal of giving the client the ability to build a library of high quality video content at an affordable price point. "I noticed a lot of unnecessary delays for the client while waiting for their content, so I created Spotburner as a means to provide premium content at a fair price, with a guaranteed turnaround time."
In addition, Spotburner has partnered with all of the major television networks, as well as several key digital distribution companies who provide a strategic targeted reach for the client's core demographic, to give clients access to the avenues that best fit their advertising needs. Spotburner also created a ground-breaking solution for allowing the clients to control their spending by designing a "real time" analytics dashboard, allowing clients to see how and where their advertising money is being spent, as well as make changes immediately. The client is able to log onto the dashboard and change the target attributes, as well as measure internet and website pay per clicks and click through rates in real time, taking the guesswork out of how their money is being spent.
This cutting-edge business model has allowed Spotburner to successfully produce and distribute commercial spots and branded videos for companies like Lamborghini, Coca-Cola, Target, Dodge and Adidas.