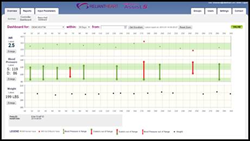 Houston, TX (PRWEB) April 23, 2015
ReliantHeart's HeartAssist5® Ventricular Assist Device (VAD) precisely measures a patient's True Flow (blood flow through the device) in real time, and this data is uploaded to VADLink.com provided by Numerex, the world's leading provider of Machine to Machine (M2M) communications for the Internet of Things IoT.
True Flow via VADLink.com can be monitored by a patient's clinician 24/7, and if there is any drop in flow below a minimum threshold, the clinician can be notified immediately. Early warning and intervention is a key to improving LVAD patient outcomes.
The upgrade by Numerex to be completed in 2015, adds more patient data to the VADLink clinical dashboard, including INR readings, blood pressure and weight.
Read more about how the Numerex Network securely connects HeartAssist5® patients to their clinicians.