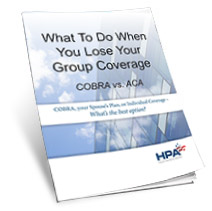 There are three options individuals should consider when they lose group coverage.
Birmingham, Alabama (PRWEB) April 22, 2015
Health Partners America (http://www.healthpartnersamerica.com), a company that provides training, tools, and technology solutions for insurance agents and employers who are navigating the health reform legislation, announces the release of its new white paper – What To Do When You Lose Your Group Coverage. This 13-page document was written to help health insurance agents and their clients understand what options are available after the loss of coverage under the Affordable Care Act.
As the paper points out, there are three options individuals should consider when they lose group coverage. While most employees have heard of COBRA, few know anything about it. Many believe it's a special type of insurance, and almost everyone thinks it's too expensive. However, many people are unaware of the other options besides COBRA. "Employees will begin to learn though," explains Kate Murphy, Vice President & General Manager of Health Partners America.
"Employers are actually required to notify employees of these three options," says Murphy, "not just when they lose coverage, but when they start working for their company."
HPA's new white paper is intended to make those options easier to understand, explaining each notice and how they affect the employer and employee. It also discusses how the associated special enrollment periods work. In short, those who lose group coverage will have options besides COBRA coverage. Primarily, possible cheaper individual coverage made available due to the ACA.
Perhaps the most important point the paper makes is the fact that the individual market has been made available to everyone when there is a loss of coverage primarily because all individual plans are now guaranteed issue. "This is great news," explains Murphy, "people have more choice. The fact that there are other options encourages them to shop for coverage, and when they do, they may discover that there is cheaper coverage and financial assistance may be available. That helps a lot with the cost."
Health Partners America specializes in setting up private exchange sites that allows brokers to offer individuals and families a wide range of qualified plans.
About Health Partners America
Founded in 2007, Health Partners America provides insurance brokers with the tools, training and technology to help businesses deliver quality health coverage using affordable solutions. The company offers the industry's first broker-friendly private health insurance exchange, allowing advisors to provide custom solutions to employer groups, associations, and other organizations.
If you'd like more information about this topic or about HPA, please contact Doug Foshee at 205-443-2186 or visit http://www.healthpartnersamerica.com.