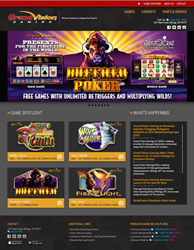 Billings, MT (PRWEB) April 23, 2015
Grand Vision Gaming, LLC (GVG) has launched its newly redesigned website at http://www.grandvisiongaming.com. This interactive site features descriptions of GVG's complete game library, information on GVG's state of the art cabinetry and a direct link to the company's parts and service department.
The new website allows players to explore the company's innovative keno, video poker and slot titles with screenshots and detailed game descriptions. Players can also find the closest location that features GVG products.
Gaming operators can visit the website to view and download schematics and features of GVG's selection of gaming machines available for purchase. The new Parts and Service tab allows operators to submit part orders, part repairs and service requests for currently owned GVG machines.
Grand Vision Gaming
Grand Vision Gaming (GVG) LLC is a designer and manufacturer of Class III Video Gaming Machines. Established in 2008, GVG boasts a development team responsible for creating revolutionary gaming products that employ state of the art technology, highly interactive and imaginary game themes and proprietary cabinetry. The four principals of GVG have combined industry experience of nearly 100 years, with extensive experience in the manufacture and operation of gaming devices throughout the Montana, Nevada, South Dakota, Louisiana jurisdictions and many Native American properties.
For more information, call 406-281-7600 or visit us at http://www.grandvisiongaming.com.