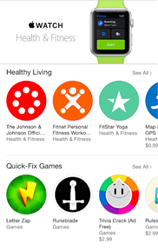 Fitnet 3's tight integration with Apple Watch allows our clients to become even more accountable for their personal health and fitness goals.
Blacksburg, Va. (PRWEB) April 23, 2015
Fitnet, the only fitness app that combines biometric sensors, workout buddies, trainers, and now, an accurate calorie counter during video exercise, is featured as a top app in both the Healthy Living and Health and Fitness categories in the Apple Watch App Store that launched today. The app, recently dubbed "the Jane Fonda of the Digital age," now allows clients to use it as a true wearable – in fact it is the only third party app providing accurate calorie burn counter, cardio zone and heart rate during exercise on Apple Watch. Fitnet has utilized key Apple technologies including HealthKit, WatchKit and CloudKit to ensure the accuracy of its wearable features and integration into Apple Watch.
Fitnet 3.0 also steps up its fitness game with the addition of weeklong Fitness Challenges. These five-day, 10-minute per day challenges – such as "Buns, Guns and Abs" and "Burpee Bonanza" – were created to make fitness on Fitnet an even more fun, competitive and social experience. For only $1.99 per week, clients can participate in workout challenges that begin each Sunday and end on Saturday. This feature, coupled with the health data from Apple Watch, allows Fitnet to score and rank thousands of people from around the world daily. With clients in over 200 countries, and already five million calories burned, Fitnet is gamifying its experience and creating a global fitness challenge like no other.
"Fitnet 3's tight integration with Apple Watch allows our clients to become even more accountable for their personal health and fitness goals," said founder and chief geek of Fitnet, Bob Summers. "This, combined with our new weeklong challenges, truly gamifies the experience and makes the process more personal and meaningful. Our ultimate goal is to get clients in the habit of working out 5 days a week – a great accomplishment for anyone in pursuit of a healthier lifestyle."
A recent study in the Archives of Internal Medicine journal demonstrated that people are most motivated in a fitness program when they are able to workout with someone else. Enhancements and widespread adoption of wearable technology is giving consumers the opportunity to gamify their experience; and not only workout with just one or two fitness buddies but with their entire social network.
Created to spark the competitive spirit in its clients, Fitnet is gamifying this feature one step further by giving participants two "Challenge Coupons." These coupons allow participants to invite two friends to join them in the weekly challenge for free. All challenge participants are then scored each week through both the biometric sensor scoring system or Apple Watch. The participants are then ranked based on the number of challenge segments completed and number of "nets" earned. Clients can view their results through any Apple device, including the Apple Watch, to keep track of their standing in real time within each week's challenge.
Fitnet is no stranger to the iTunes App feature pages, after both its iPhone release and integration with Apple Health, Fitnet was immediately recognized as a top health and fitness app on iTunes. In addition, Fitnet has received recognition from Mashable, TechCrunch, Yahoo Tech, BGR, Microsoft and Google. The comprehensive mobile fitness experience has received funding from CIT, Valleys' Ventures, Mozilla Foundation and National Science Foundation.
Fitnet 3.0 is available now as a free download with over 250 workouts and counting on iTunes App Store, Apple Watch App Store and Google Play. Clients can purchase $1.99 challenges and monthly fitness training subscriptions starting at only $9 per month.
###
About Fitnet
Launched in 2014, Fitnet is the only fitness app that delivers a personal fitness experience combining wearable technology, biometric sensors, fitness coaching and online workout buddies. The comprehensive fitness solution is accessible, easy-to-use and fun for all ages and skill levels. The app's cost-effective tools provide accurate and real-time feedback, which motivates clients to reach their health and fitness goals anytime, anywhere. The Fitnet application is used in over 200 countries and its clients have collectively burned over 5 million calories since the launch on January 1, 2014. For more information, visit fit.net or follow @fitnethealth on Twitter.