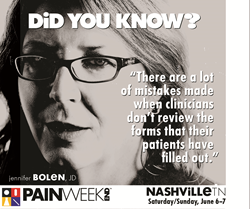 Montclair, NJ (PRWEB) May 01, 2015
According to medical/legal expert Jennifer Bolen, JD, "Tennessee is in the midst of an epidemic of prescription drug abuse and overdose deaths. Healthcare providers who treat pain are at ground zero in the battle to reduce overdose deaths, and state agencies are taking aggressive action to make changes to pain laws and rules." A new flight of PAINWeekEnd Regional Conferences offers an educational solution to the challenge facing healthcare providers in hospital and office-based practice settings nationwide: how to meet the growing demand for chronic pain care in an increasingly stringent regulatory environment for prescribers.
Convening on Saturday and Sunday, June 6-7, at the Nashville Marriott at Vanderbilt University, 2555 West End Avenue, PAINWeekEnd Nashville is constructed to meet the needs of busy clinicians and allied healthcare practitioners, delivering a full two days of relevant, practical instruction in the management of chronic pain, together with the opportunity for stimulating interaction and exchange with faculty and fellow attendees.
In Tennessee, physicians must complete 40 hours of CME credit during each biennial review cycle and at least 1 contact hour must be relevant to prescribing practices. Nurse practitioners who possess a Certificate of Fitness must complete 1 contact hour designed to address the prescribing of controlled substances during each biennial review cycle. By attending PAINWeekEnd, participants can receive 14.0 AMA PRA Category 1 Credits™ as they enhance their skills in medication risk evaluation and mitigation, in pain assessment and diagnosis, and in the delivery of individualized multimodal treatment.
Now in their 5th year, PAINWeekEnd Regional Conferences are produced by PAINWeek®—the leading pain education resource for frontline practitioners. Chronic pain is a major public health issue and a concern that primary care clinicians face every day as they absorb the burden of care for an aging population. Summing up the challenge, senior PAINWeek faculty member Kevin L. Zacharoff, MD, FACIP, FACPE, FAAP, remarked, "Chronic pain patients are on the doorstep of every healthcare provider on Main Street USA!"
Course topics include: when acute pain becomes chronic; critical pain management practice issues focused on embracing 2015 practice changes and patient education; differential diagnosis of low back pain; migraines A to Z; interventional options for managing low back pain; pain basics; changes in billing/coding; the impact of changes to the clinical lab fee schedule (CLFS) and payor policies on medical record documentation; how to conduct and use risk assessment; the complex patient; a case based approach to creating a treatment plan for higher risk patients; and a legal perspective on the challenges behind practicing medicine and offering ancillary services.
The PAINWeekEnd curriculum will be presented by a multidisciplinary faculty and is intended for frontline clinicians including physicians, nurses, nurse practitioners, physician assistants, and pharmacists. In addition, there will be commercially supported activities addressing a range of product, disease state, and medical information topics.
The online registration fee for PAINWeekEnd Conferences is $99.
More About PAINWeekEnd
PAINWeekEnd registrants are further offered the opportunity to register for the 2015 PAINWeek National Conference, September 8-12, in Las Vegas for $99 off the current online published price.
Groups of 5 or more PAINWeekEnd registrants also receive one FREE registration to the PAINWeek National Conference.
To review the complete Nashville agenda, or to learn more about this or other upcoming PAINWeekEnd Regional Conferences, please visit http://www.painweekend.org.
PAINWeekEnd is provided by Global Education Group and produced by Aventine Co., developers of PAINWeek®—the largest US conference on pain management.