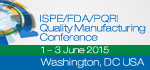 "Through industry and regulatory collaboration, we will produce an important event with solutions-based approaches to improve processes and ensure a quality drug supply."
Tampa, Florida (PRWEB) April 24, 2015
International Society for Pharmaceutical Engineering (ISPE), US Food and Drug Administration (FDA) and Product Quality Research Institute (PQRI) will bring together international industry and regulatory leaders for three days of open dialogue across the spectrum of modernization in manufacturing, regulatory insights and quality systems at the ISPE/FDA/PQRI Quality Manufacturing Conference on 1 – 3 June in Washington, DC.
"ISPE is delighted to co-sponsor this event with FDA and PQRI," said ISPE President and CEO John Bournas. "Through industry and regulatory collaboration, we will produce an important event with solutions-based approaches to improve processes and ensure a quality drug supply."
In its fourth year, the conference, formerly known as the ISPE/FDA CGMP Conference, will begin with industry and regulatory keynote addresses by Juan Andres, Head of Global Technical Operations, Novartis AG; Andy Skibo, Head of Global Biologics Operations & Real Estate, MedImmune/AstraZeneca and Janet Woodcock, MD, Director, FDA/CDER. The 2015 event features more than 38 education sessions and panels on topics including facility operations, drug shortages prevention, continuous manufacturing, foundations for quality, Lifecycle knowledge management and data integrity.
"This conference is unique in that it offers one full day dedicated to regulatory topics such as inspection trends with international representatives from ANVISA, MHRA and FDA and discussions centered around global harmonization," said Joe Famulare, VP, Global Compliance and External Collaboration, Pharma Technical Quality, Genentech Inc. and conference co-chair.
Delegates will also gain a better understanding of how the changes within FDA affect compliance and processes in a special session with FDA representatives. Tom Cosgrove, JD, Director, Office of Manufacturing Quality, CDER/OC/OMQ; Alonza Cruse, Director (Acting), Office of Medical Products and Tobacco Operations; Christine Moore, PhD, Acting Director, Office of Process and Facilities, CDER/OPQ/OPF and Cynthia Schnedar, JD, Director, Office of Compliance, CDER/OC, among other FDA senior staff, are invited to discuss FDA programs including CDER reorganization and its new role and priorities.
In addition to concurrent education sessions and regulatory discussions, participants will discover cutting-edge technologies from more than 40 exhibiting companies designed to improve processes and maintain compliance.
"ISPE/FDA/PQRI Quality Manufacturing Conference is an avenue for the entire pharmaceutical community to work together to advance pharmaceutical manufacturing quality and solve pressing issues such as drug shortages." said Bournas.
The conference is also co-chaired by Christine Moore, PhD, Acting Director, Office of Process and Facilities, FDA/OPQ and Louis Yu, PhD, Executive Vice President, Perrigo.
For more information on the ISPE/FDA/PQRI Quality Manufacturing Conference, please visit http://www.ISPE.org/Quality-Manufacturing-Conference.
About ISPE
ISPE, the International Society for Pharmaceutical Engineering, is the world's largest not-for-profit association serving its Members through leading scientific, technical and regulatory advancement throughout the pharmaceutical lifecycle. The 20,000 Members of ISPE are building solutions in the development and manufacture of safe and effective pharmaceutical and biologic medicines and medical delivery devices in more than 90 countries around the world. Founded in 1980, ISPE has its worldwide headquarters in Tampa, Florida, USA. Visit: http://www.ISPE.org or more information.
For more information contact:
Reneé Smith
Associate Director, Marketing Communications, ISPE
Tel: +1-813-960-2105, ext. 309
Email: rsmith@ispe.org
http://www.ISPE.org