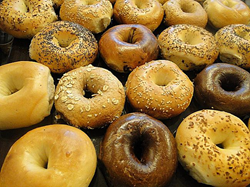 NY Bagel Cafe is proud to bring the old European feel to bagels, the way they once were.
Rutherford, New Jersey (PRWEB) April 23, 2015
It is incredibly difficult to imagine that the simple golden bagel we often times see today on the breakfast tables of many upper-class families in fact has its origins on the rather poor pre-war streets of Eastern Europe. As the Jewish immigrants were arriving to the U.S. on now famous trans-Atlantic boats, thus serving as perfect picture material to countless iconic Ellis Island photos, America was introduced to the new variety of the golden bagel (occasionally even the bagel & lox combo), which they would most aptly describe as the "taste of the old country."
Without a doubt, bagels are forever permeated with the history of people, in fact the history of the world itself. And yet, despite its humble beginnings, today's bagel has found its way to the most prominent of breakfast and brunch menus worldwide, and quite frankly most people today, particularly the younger generation, may not necessarily care about the bagel's place in the history books. Mostly people will simply appreciate its taste, love the variety & appreciate the deliciousness, which ultimately is what matters.
When you consider the variety available from the modern-day bakeries and all the flavors they create, anyone & everyone is guaranteed to find a combination that works just for them! And now that there's coffee and a good conversation available just about anywhere a bagel is sold, bakeries are actually quickly becoming social gathering spots for people of all ages and walks of life, where everyone is not only enjoying a great bagel and an equally great cup of coffee, but also an incredible scent of a freshly-baked bagel, which of course is nothing short of a spectacle when observed and consumed right on the spot!
Speaking of finding new and exciting bagel flavors - NY Bagel Cafe and Deli is proud to announce the opening of brand new locations in Doral and West Palm Beach Florida. The new locations in Florida are part of the most recent franchise expansion plan, taking NY Bagel to a number of new states across the country. Each locations will feature the local menu items, specific to the particular state, but will also bring a taste of the old New York tradition that is a rare find in places far removed from New York.
About NY Bagel Café & Deli
NY Bagel Café & Deli is the brainchild of Joe Smith, an enterprising upstate New Yorker who saw the opportunities back in 1994 for making inroads in the franchise fast-food market. Take a proven commodity – everyone's favorite "light" meal, the bagel – and then take it one step further. Offer the original New York bagel, and create a cornerstone for a bagel franchise … without the typical franchise bagel taste. Then structure the business for ease of investment and operation, and "spread the wealth" with other motivated self-starters.
You'll find that NYBagelCafé & Deli runs rings around other bagel shops with a delicious array of complementary foods. Like popular Boar's Head deli meats and cheeses, the smoothest flavored cream cheeses, succulent smoked salmon and richly brewed gourmet coffees. How about Panini sandwiches, popular wrap sandwiches, freshly prepared salads and fresh baked goods? We feature REAL NY Water Bagels and Bialys baked fresh every day. With numerous locations opening every month, NY Bagel Cafe and Deli is officially open for business!