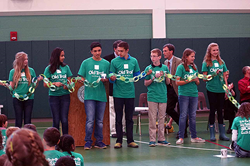 "Our students truly embrace our School's mission of environmental sustainability and actively take part in lessons and activities that make them aware of the
Bath OH (PRWEB) April 24, 2015
Old Trail School was named one of 58 schools in the United States and only two schools in Ohio as a Green Ribbon School by the U.S. Department of Education today, April 22, 2015 – Earth Day.
The School was recognized for its significant achievements in the area of environmental sustainability as it relates to curriculum, facility and school operations. Old Trail School was nominated by the Ohio Department of Education for this award in a process that began last fall.
Green Ribbon Schools awards have been given since 2012 and recognize schools and school districts for their exemplary efforts to reduce environmental impact and utility costs, promote better health, and ensure effective environmental education. U.S. Secretary of Education Arne Duncan made the award announcement today in Washington, D.C.
"These honorees are compelling examples of the ways schools can help children build real-world skillsets, cut school costs, and provide healthy learning environments," Duncan said. "U.S. Department of Education Green Ribbon Schools are an inspiration and deserve the spotlight for embodying strong examples of innovative learning and civic engagement. We also are thrilled to add institutions of higher education to the list of honorees this year for the first time in the award's history."
Old Trail School was recognized for creating a model for school environmental sustainability programs that focus on five major components: facility, food, operations, recycling and water. The School is striving to reduce its carbon footprint while introducing students to their natural world through hands-on, collaborative science lessons, gardening (on the School's 2-acre organic farm) and habitat restoration.
"We are indeed honored to be selected as a Green Ribbon School," said John Farber, Head of School. "Our students truly embrace our School's mission of environmental sustainability and actively take part in lessons and activities that make them aware of their responsibility to take care of our natural environment. Our entire community is excited to be recognized and we look forward to sharing our resources with other schools and students in our region."
Old Trail School began Earth Day activities with the dedication of the School's new Solar Array. This is the largest solar installation of any school in Summit County and is expected to produce one-third of the School's electrical needs each year and save the School more than $1,000,000 in electricity costs over 30 years. The array will be a valuable tool educating students using an electronic "dashboard" to view real-time electricity production.
Following the solar dedication ceremony, students participated in a variety of Earth Day activities including: building bat houses, making seed bombs, creating pinecone bird feeders, picking up trash, building solar ovens, learning about bees and enjoying a special "Zero Waste" picnic lunch.
Old Trail School is an independent, coeducational day school for 525 students aged two through grade eight. Located in the beautiful Cuyahoga Valley National Park in Bath, Ohio, the School offers a personal, nurturing and academically challenging liberal arts program to students and families in a five-county region that emphasizes excellence in academics, athletics and the arts. For more information about Old Trail School visit oldtrail.org.