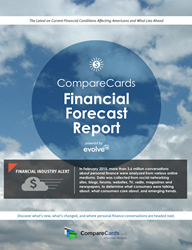 "The data in this report shows what consumers are actually talking about in regard to personal finance, rather than what we think they are talking about or should be talking about," said Chris Mettler, Founder of CompareCards.
Charleston, SC (PRWEB) April 22, 2015
CompareCards, a leading credit card comparison company, partnered with big data analytics and insight company, evolve24, to analyze consumer discussions about personal finance to discover what's new, what's changed, and where personal finance conversations are headed next.
In February 2015, more than 3.6 million conversations about personal finance were analyzed from various online mediums. Data was gathered from social networking sites, blogs, forums, websites, TV, radio, and conversations in magazines and newspapers. Patterns in these conversations determined what consumers were talking about, what consumers care about, and emerging trends.
"The data in this report shows what consumers are actually talking about in regard to personal finance, rather than what we think they are talking about or should be talking about," said Chris Mettler, Founder of CompareCards. "By looking at millions of conversations we have true insight into what actually matters to consumers."
The weather forecast-themed report is broken down into three categories including: New Developments, the "I" of the Storm and On the Radar.

New Developments: Conversations about "overspending on food" were discussed with more volume (~140,000 posts) than any other topic in February. Individuals recognized they were spending a lot of money on food and considered it a problem as they had less to spend in other areas. Most of the individuals who stated this is a problem said they would prefer to spend money on other things (as opposed to saving).
"I" of the Storm: "Identity theft" is this month's big idea featured in the 'I' of the Storm. This area covers multiple concerns faced by consumers, including topics about tax fraud, data theft trials, and international hacking, all of which are primarily negative within their discussions.
On the Radar: The following topics are the most emotional topics, but have yet to become high in volume. If these topics gain attention and volume, they are likely to drive changes in behavior and beliefs.
Questions About Tax Fraud
Financial Planning
Tax Season
Income Tax Questions
Fraudulent Tax Returns
800,000 Receiving Wrong Affordable Care Act Information
Fundraising and Charity
"We applied a series of analytics to every article we collected and identified topics of discussion as they emerged and changed. We used our metrics to measure these topics for their relative emotion," said Tracie Gildehaus, vice president of partnerships and innovation, evolve24. "We believe the most emotional topics are the ones most likely to change beliefs or behaviors. These 'most important' topics are rarely the most discussed – but they are most likely to have a major impact on the emotions and actions of individuals."
To view the full six-page report visit: http://www.comparecards.com/education/reports
CompareCards will continue to issue up-to-date Financial Forecast Reports in the upcoming months, allowing for personal finance trends and data to be shared and compared.
About CompareCards:
CompareCards was formed in 2005 as a credit card listing resource, but has grown into one of the most trusted credit card comparison sites used today. Using a side-by-side comparison tool, consumers are able to compare credit cards and find the best offer based on the factors that are important to each individual. CompareCards also offers consumers a way to manage their overall credit score and financial health through their free Credit Concierge service. Additionally, CompareCards provides consumers with access to live credit experts, offers financial education through various infographics, and helps consumers stay on top of the latest personal finance trends and credit card news via the CompareCards blog.
About evolve24:
evolve24 is a big data analytics and insights company that measures audience perception to enable clients to make confident business decisions. With bleeding-edge technology and patent-pending analytics, like Opinion, Emotion, Trust and PreCISE™, evolve24 uses big data to derive market and consumer insights, measure program effectiveness and provide anticipatory issue intelligence through innovative research, dashboards and portals. Learn more at evolve24.com or follow @evolve24.