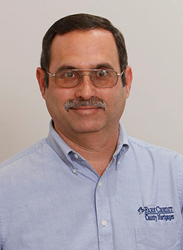 (PRWEB) April 23, 2015
Farm Credit of the Virginias, a financial cooperative serving farmers, ranchers and rural homeowners in Maryland, Virginia and West Virginia, recently announced that Mike Diehl, Rockingham County native and current Dayton resident, will assume responsibility as Regional Sales and Lending Manager.
Working from the organization's Harrisonburg office, Diehl will lead a team of agribusiness lending professionals in delivering financial services to dairy, livestock, grain, timber, winery, vineyard and other area agribusiness.
Diehl has been with Farm Credit of the Virginias for 13 years after working for 12 years in the commercial banking sector, and earned a bachelor's degree in Agricultural Economics from Virginia Tech and an MBA from James Madison University.
"I think my broad experience will enable me to be a value-added resource for our customer-owners, for prospective agribusiness customers and for my colleagues as they focus on meeting the needs of our local agribusinesses," said Diehl. "Understanding their businesses and production operations so we can determine how we can best serve them will continue to be a top priority."
Farm Credit of the Virginias is part of the Farm Credit System, a national network of lending cooperatives established almost 100 years ago to serve the financial needs of agriculture and rural America. The organization currently counts more than 10,000 farmers, ranchers and rural homeowners among its customers, each of whom is also an owner of the cooperative.
"It's great to work for an organization that recognizes accomplishments and promotes from within its own talent pool," says Diehl. "I'm looking forward to leading this exceptional team in delivering outstanding service and critical financing to our local agribusiness customers."
About Farm Credit of the Virginias
Farm Credit of the Virginias provides over $1.5 billion dollars in financing to more than 10,000 farmers, agribusinesses and rural homeowners throughout Virginia, West Virginia and western Maryland. Farm Credit is a cooperative capitalized largely through investments made by farmers, ranchers and the rural homeowners and businesses that borrow from them. Farm Credit helps maintain and improve the quality of life in rural America and on the farm through its constant commitment to competitive lending, expert financial services and for facilitating and sharing knowledge and resources through the Farm Credit Knowledge Center. For more information, visit http://www.FarmCreditKnowledgeCenter.com or http://www.FarmCreditofVirginias.com.