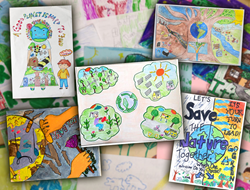 Elkridge, MD (PRWEB) April 22, 2015
Planet Aid is happy to announce the winners of its Earth Day Art Contest. Hundreds of elementary school children submitted their original works of art relating to the international Earth Day theme, "It's Our Turn to Lead."
The five global winners are...
1st Grade : Roshini C. from Mooresville, North Carolina
2nd Grade : Zion A. from North Haledon, New Jersey
3rd Grade : Kevin S. from Bogor, Indonesia
4th Grade : Michelle S. from Vienna, Virginia
5th Grade : Ronak G. from New Delhi, India
These global winners will have their work published in the Planet Aid Post (the nonprofit's newspaper).
Dozens of local winners were also announced on Planet Aid's website.
Planet Aid would like to thank all participants for submitting their artwork in celebration of Earth Day. Submissions came from countries all over the world, including India, Romania, Pakistan, United Arab Emirates, Indonesia, Sri Lanka, Mozambique, and Spain.
Planet Aid is a nonprofit organization whose mission is to inform, mobilize and inspire individuals and communities to work together to bring about worldwide environmental and social progress. Planet Aid funds sustainable development programs in Africa, Asia, and the Americas using the proceeds from the clothes it recycles in the U.S. For more information on Planet Aid, visit Planetaid.org.