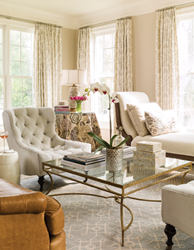 "The homeowner's taste is very feminine. I wanted the design to be beautiful and elegant, but also feel lived-in and approachable."
Rockville, Maryland (PRWEB) May 06, 2015
HOME & DESIGN's May/June 2015 issue hits newsstands in two weeks! This issue is packed with lots of fresh ideas to inspire your home décor and renovation projects. The 2015 Baltimore-Washington Kitchen & Bath Association (NKBA) welcomed 81 entries from area designers in its annual competition, sponsored by Home & Design. See the award-winning projects that will capture your imagination with their distinctive details, eye-catching aesthetics and well-executed plans. The issue also features lush landscapes and the latest outdoor products that offer fun in the sun! Editorial highlights include a Private Tour at home with Bayou Bakery's David Guas and family.
Further highlights from this issue include "Full Circle," where designer Susan Vallon overhauls a stuffy Bethesda home into a chic haven for entertaining; "A New Leaf," where Kathryn Ivey imbues a Bethesda residence with a glamorous touch for a client with two teenagers; "Capitol Gains," where Brooklyn architect Cynthia Wright revives a faded 1870 row house on the Hill; "Modern Re-Do," where architect Randall Mars expands a Mid-Century Arlington home with a nod to its period style; and "Landscapes for All Seasons," where two lush gardens with plenty of gathering space celebrate the great outdoors.
An excerpt from "A New Leaf:"
"It occurred to my client that we could make her home look completely different without the hassle of moving, by introducing fresh colors and new furnishings," says Ivey, who currently splits her time between Washington and Paris. "The homeowner's taste is very feminine. I wanted the design to be beautiful and elegant, but also feel lived-in and approachable."
The décor of the 10-year-old, four-bedroom house was formal, with plush sofas, bullion fringe and an outdated palette of sage, rose and putty. Its traditional kitchen was laden with heavy cabinetry. "The plan was to lighten and brighten up the house and to center it on family life while creating sophisticated areas for entertaining," Ivey explains.
The designer worked with her client to develop a fresh color palette of rich cream, soft taupe and powdery blue with blush and lavender accents; metallic and mirrored finishes added a touch of glamour. "All the wainscoting was stark white, but I painted it the same calming color as the walls," says Ivey. "It still has architectural interest, but in a quieter way that allows the textures and patterns of the new furnishings to play a larger role."
"When you compare the home now to how it looked before, you'd hardly know it was the same house," observes Ivey. "Essentially, by embracing a different design aesthetic, we made a new house out of her old one."
As always, this issue's Indulgences section tempts you with the best of the good life in travel, toys, spring fashion and food. It's an issue you won't want to miss!