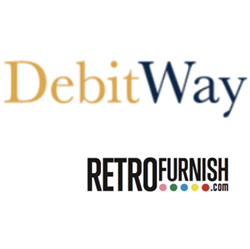 DebitWay offer solutions, not platitudes. We required a trusted online payment solution and DebitWay provided exactly that
Montreal, Quebec (PRWEB) April 23, 2015
DebitWay continues to make inroads into new online market verticals. The Montreal, Quebec, Canada payment service provider has expanded its partner portfolio to now include high end replica design furniture retailers as its latest union with RetroFurnish can attest to.
Since 2004, DebitWay has continued to grow as a payment service provider and expand its client partner portfolio. The once "alternative" payment service provider has matured into a one stop shop for all electronic merchant online payment processing needs; offering its client partners online debit processing (DDT®), electronic check (eCheck) processing and credit card processing (CCP®).
In partnering with RetroFurnish, established in 2011 by Belgian founders Richard Buysschaert and Anthony van Baeten, DebitWay has put its ten plus years of online payment service processing to work for yet another market other PSP's have deemed "High Risk". DebitWay has opened the doors for the growing industry of high end replica furniture by creating a detailed plan for RetroFurnish in order to ensure online payment processing.
"There is nothing high risk about the replica furniture business…" states Director of Business Development and Production Rod Tomita "...providing high end replica furniture eCommerces with online payment processing solutions is simply a matter of understanding how the PSP world works, DebitWay does, that is what sets us apart".
When reached for comment, RetroFurnish co-founder Anthony van Baeten had the following statement "As an owner/operator, I don't have time for excuses and contrived reasoning that some payment service providers cling to. At RetroFurnish we spend a lot of time and dedication creating stunning and well built furniture. DebitWay offer solutions, not platitudes. We required a trusted online payment solution and DebitWay provided exactly that".
Headquartered in Montreal, Canada, since 2004, DebitWay continues to be one of the leading Certified Payment Service Providers in the world, as well as a Payment Provider of INTERAC® Online in Canada. DebitWay merchant partners continue to benefit of being able to accept bank payments in real-time instantly.
Interac and the Interac logo are trade-marks of Interac Inc. The Interac Online Payment service is owned and operated by Acxsys Corporation