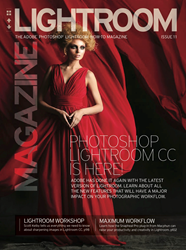 Tampa Bay, Florida (PRWEB) April 23, 2015
KelbyOne online subscribers will find something new in their upcoming print issue of the award-wining Adobe® how-to Photoshop User® magazine, it's the inclusion of Lightroom® Magazine.
"It's a magazine within a magazine," says Editor, Publisher and the world's #1 bestselling Lightroom book author, Scott Kelby. "Lightroom has become such an important part of so many photographers' daily workflow that we really wanted to expand our Lightroom coverage big time. The launch of Lightroom CC gave us a perfect opportunity to take what we learned from having produced an app-based version of the magazine last year, and add it to what we've been doing in print with Photoshop User magazine for years. This is such an amazing time to be a Lightroom user and we're honored to play a role in teaching photographers how to use this amazing software that gets better and better with each new release," he added.
The first issue will include tutorials from the Lightroom Crew at KelbyOne (RC Concepcion, Mia McCormick Pete Collins and of course Kelby himself), along with guest writers and feature articles from some of the best-known names in Lightroom Education. "We take this stuff really seriously — Lightroom has become this indispensable tool for today's photographers and we've been using it since before version 1.0 and can't imagine our photography life with it. It's become that important," says Kelby.
KelbyOne annual subscribers receive 10 issues of the print edition of Photoshop User magazine each year, which will now include Lightroom Magazine inside its pages, and will pick up the theme of keeping each issue packed with Lightroom tutorials, tips, shortcuts, and in-depth techniques. Photoshop User is available to international subscribers in digital format and US-based subscribers can opt for the digital version instead.
Photoshop User (digital and/or print) is included in all KelbyOne memberships. To learn more about becoming a member, visit Kelbyone.com. The magazine is also featured as a stand-alone subscription at Kelbyone.com/magazine.
About Kelby Media Group
Kelby Media Group, founded in 1993 by Scott Kelby is the leading provider of education and information for creative professionals worldwide. Through their innovative award-winning magazines (Photoshop User Magazine, Lightroom Magazine), books, online training, live seminars and conferences (Photoshop World Conference and Expo), Kelby Media Group reaches over 3 million creative professionals.