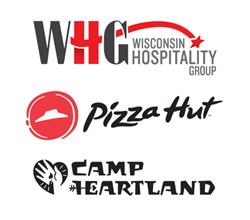 "It's not every organization that dedicates so much time and effort to doing good on behalf of communities in need. We are proud to have had Wisconsin Hospitality Group Pizza Huts partner with us for the last 16 years – here's to 16 more."
MILWAUKEE, WI (PRWEB) April 24, 2015
Wisconsin Hospitality Group, operator of 82 Pizza Hut restaurants in the state of Wisconsin and Illinois, is launching its 2015 annual five-week Share Your Heart campaign on April 26th throughout all of its restaurants. The campaign has raised more than $800,000 for Camp Heartland during the last 16 years and this year's effort is expected to push total donations beyond $900,000. Proceeds raised will support Camp Heartland programs and operations, which provides children afflicted with HIV/AIDS the ability to enjoy an exciting and progressive summer camp experience.
Camp Heartland serves children and youth ages 7-15 infected or directly affected by HIV/AIDS. The organization operates one-week camps which provide a place of acceptance and belonging for children who often experience social isolation. Through shared experience, psychological support and countless activities, campers experience strides in their personal and social development.
"We are thrilled to continue our support of an organization dedicated to improving the lives of children, youth and their families," said Mark Dillon, President and CEO of Wisconsin Hospitality Group. "Pizza Hut has always been committed to encouraging and strengthening our communities and we are honored to support Camp Heartland again this year."
All Wisconsin Hospitality Group Pizza Hut locations participate in the Share Your Heart fundraiser campaign. The funds are raised through the sale of $1 paper hearts. In addition to fundraising efforts in the restaurants, employees also organize initiatives in their communities in an effort to raise additional money for the cause.
"We are incredibly grateful for the support our partners at Wisconsin Hospitality Group have given us over the years," says Camp Heartland Executive Director Patrick Kindler. "It's not every organization that dedicates so much time and effort to doing good on behalf of communities in need. We are proud to have had Wisconsin Hospitality Group Pizza Huts partner with us for the last 16 years – here's to 16 more."
Wisconsin Hospitality Group, a local restaurant franchise group, and its two restaurant brands, Pizza Hut and Applebee's, through the generosity of its guests and the hard work and charitable efforts of its team members, have raised more than $2.4 million for local charities in the past fifteen years. In addition to Camp Heartland, WHG has had the opportunity to support Children's Hospital, to provide honor flights to Washington DC for 19 local veterans, and to provide financial support to combat childhood hunger. The company has established a non-profit foundation, WHG Cares, to centralize all fundraising efforts and to provide opportunities for tax deductible donations in the future. During all of Wisconsin Hospitality Group's campaigns, the company stays committed to keeping costs down and to providing 100% of the campaign net proceeds to its charities.
Wisconsin Hospitality Group and its affiliates own and operate 118 restaurants across Wisconsin. WHG has grown in sales to become the largest Wisconsin-based food service franchise company in the state. Headquartered in Waukesha, WHG operates 36 Applebee's Grill & Bar restaurants and 82 Pizza Hut Restaurants, all committed to guest satisfaction and community support.
Camp Heartland serves children and youth ages 7-15 either infected with or directly affected by HIV/AIDS. These week-long camps provide a place of complete acceptance and freedom from social isolation. Through shared experience, psychosocial support and a lot of fun, campers experience leaps in personal growth and social development. Click here to learn more about Camp Heartland.