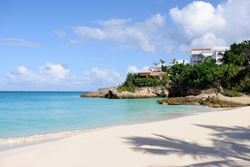 " We are honored to see Malliouhana's name among the newest luxury hotels around the world," said John Vasatka, General Manager of Malliouhana, an Auberge Resort.
ANGUILLA, B.W.I. (PRWEB) April 23, 2015
Condé Nast Traveler today announced its 2015 Hot List of the best new hotels and resorts in the world and Malliouhana, an Auberge Resort, an iconic luxury resort on the island of Anguilla, has been recognized as one of the "Best Beachside Escapes."
"To be recognized by Condé Nast Traveler is a true honor and we are thrilled to see Malliouhana's name among the list of the latest and greatest new hotels and resorts around the world," said John Vasatka, General Manager of Malliouhana, an Auberge Resort. "Malliouhana has an incredible legacy in the Caribbean, and it's rewarding to our entire staff to be distinguished as one of the best in the world."
Condé Nast Traveler's annual Hot List comprises an exclusive collection of the world's finest new hotels and resorts. A select 60 properties made the 2015 Hot List, after being vetted by editors and contributors who visited hundreds of recently opened properties around the world, from West Africa to Miami.
The 2015 Gold List appears in the May issue of Condé Nast Traveler. For the complete list, please visit http://www.cntraveler.com/stories/2015-04-20/hot-list-2015-world-s-best-new-hotels.
An iconic resort in the Caribbean, Malliouhana is perched high atop a panoramic bluff overlooking the white sand beaches of Meads Bay and Turtle Cove on the west end of Anguilla. Following a three-year closure and 18-month top-to-bottom renovation, the 44-room hotel re-opened on November 1, 2014, exactly 30 days to the day after it first opened its doors to an international jet-setting clientele. For reservations or more information, please call 1-866-282-3743 or visit http://malliouhana.aubergeresorts.com.
About Auberge Resorts Collection
Auberge Resorts Collection owns and operates a portfolio of exceptional hotels, resorts, residences and private clubs under two distinct brands: Auberge Hotels and Resorts, timeless luxury properties acclaimed for their intimate, understated elegance, and VieVage Hotels and Resorts, a new lifestyle brand that brings together contemporary themes of design, community and wellness in a fresh, active and social environment. While Auberge nurtures the individuality of each property, all share a crafted approach to luxury that is expressed through captivating design, exceptional cuisine and spas, and gracious yet unobtrusive service. Properties in the Auberge Resorts Collection include: Auberge du Soleil and Calistoga Ranch, Napa Valley, Calif.; Esperanza, Cabo San Lucas, Mexico; Hotel Jerome, Aspen, Colo.; Malliouhana, Anguilla; Nanuku, Fiji; The Auberge Residences at Element 52, Telluride, Colo.; Pronghorn Resort, Bend, Ore.; VieVage, Napa Valley; VieVage, Los Cabos; and Auberge Beach Residences and Spa Fort Lauderdale, with several others in development. For more information about Auberge Resorts Collection, please visit http://www.aubergeresorts.com/. Follow Auberge Resorts Collection on Facebook at facebook.com/AubergeResorts and on Twitter at @AubergeResorts.