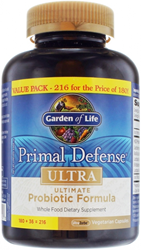 Primal Defense Ultra is by far our most popular probiotic. That is for several very good reasons.
(PRWEB) April 24, 2015
Garden of Life is one of the top nutritional supplement companies in the United States. Garden of Life states on their website, "The safety and efficacy of our products is of utmost concern. All raw materials have strict specifications and their Certificates of Analysis are kept on record. We have an extensive quality program that surpasses many industry standards in order to deliver the best product to our customers. At Garden of Life, we are always striving to offer our customers solutions that are life-changing, because we truly believe we can change the world by empowering extraordinary health."
"Primal Defense Ultra has always been available in bottles of 180 capsules," said Gail Bowman, owner of Health Food Emporium, "but it is now available in 216 capsules. In addition, online stores now have the option of selling the plastic, unbreakable bottles. For those customers that have lost valuable product due to a broken bottle, and even been tempted to pick the capsules out of the broken glass, this is a wonderful option.
"Primal Defense Ultra is by far our most popular probiotic. That is for several very good reasons. Primal Defense is the product that was developed by Garden of Life founder Jordan Rubin to fight intestinal disorders. Many of my customers have found that Primal Defense is the best thing they have ever used."
Primal Defense ULTRA is the ultimate high potency, broad-spectrum probiotic formula. Three capsules per day provide a 15 billion live cell count of 13 species of beneficial cultures including soil-based probiotics called Homeostatic Soil Organisms (HSOs). HSOs play a positive role in digestive health by supporting a healthy lactic acid bacteria count and healthy pH levels in the gut.
Contains the probiotic Saccharomyces boulardii which nourishes and supports healthy intestinal epithelium lining integrity, the front line for the body's defense system; and a unique blend of Lactobacillus and Bifidobacterium probiotics which promote regular bowel function and support immune health.
Contains Bacillus subtilis to support healthy lactic acid bacteria (Bifidobacterium and/or Lactobacillus) count and healthy pH levels in the gut.
Delivered via UltraZorbe 100% vegetarian capsules to ensure potency, eliminate the need for fillers and binders, and provide rapid nutrient release through faster dissolution into the body.
Primal Defense Ultra does not require refrigeration because it contains sporogenic organisms. Unlike other organisms, sporogenic organisms do not die off on the shelf because they remain dormant and do not become live until they reach moisture in the gut. These are very hardy organisms that are resistant to stomach acid and the alkalinity of bile salts so they have a unique ability to survive these tough conditions. As the moisture of the gut gradually activates them, they pass through the harsh conditions of the stomach unaffected and begin to colonize in the small intestine where they exert their beneficial effects by helping to maintain a healthy balance of friendly bacteria.
Gail Bowman has owned and operated Health Food Emporium since 2003. Health Food Emporium specializes in whole food supplements. You can reach Gail at 888-244-8948.