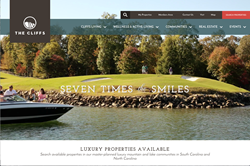 Our prospective real estate buyers want more control. We implemented a Zillow-like online experience and integrated a customer relationship process to meet our audience where they are. - Jamie Adams, The Cliffs' Chief Information Officer
Travelers Rest, SC (PRWEB) April 23, 2015
Effectively reaching and engaging today's affluent consumer online takes more resourcefulness than ever, and at The Cliffs, is among the company's top priorities in 2015. With the launch of the company's new website, http://www.CliffsLiving.com, the addition of the company's first content, social media and digital technology managers, and its largest commitment to date for digital initiatives, The Cliffs is poised to drive business at the speed of a click.
"The real magic of having seven communities is in creating a more fulfilling lifestyle—a lifestyle only available here at The Cliffs." Mike Agee, Director of Marketing explained. "Our new website, content strategy, and team members make that possible, and that's what excites us about technology. Whatever our current and future members enjoy in life, we want to help them discover and pursue those interests here to the fullest."
In 2014, The Cliffs embarked upon a technology and marketing initiative that has helped transform and reinforce The Cliffs' brand of luxury lifestyle. CliffsLiving.com launched in March 2015 and was immediately recognized as "an exception" to most real estate websites that are typically "pretty horrible", according to unmatchedstyle.com.
"We selected eHouse Studio to build our new website, based on their track record for innovating in the brand-to-design digital experience space," stated Jamie Adams, The Cliffs' Chief Information Officer. "The new site design is a showcase of The Cliffs' lifestyle and provides each visitor with a fun, friendly and informative experience through a wide variety of content that represents The Cliffs' brand: luxury living, convenience, and long-lasting relationships."
Adams elaborated: "Our current and prospective members value family, friendships, exceptional hospitality, convenience, health, and active living. When trying to decide where to live, people want to know about the surrounding cities, about others who live in the community, and about social events and activities. Our prospective real estate buyers want more control. They want to research properties online and opt-in to receive information about us. We implemented a Zillow-like online experience and integrated a customer relationship management process to meet our audience where they are."
Two key hires allow The Cliffs to execute the digital strategy: the company's new Content and Social Media Manager Libby McMillan Henson, and its Digital Technology Manager, Jeremy Hensley.
Libby McMillan brings 20 years of journalism experience to her position as The Cliffs' Content and Social Media Manager. Since 2009, McMillan has focused almost exclusively on digital and social media, most recently having served as an award-winning content and social media manager for USA TODAY 10Best. Her travel and lifestyle content has been published in print and online across a wide spectrum of media outlets, and she's also produced an award-winning documentary for public television. Her scope of responsibility includes the cultivation and curation of content for The Cliffs' website and blog, as well as management of each of The Cliffs' social media channels.
As The Cliffs' digital technology manager, Jeremy Hensley applies more than ten years of web development experience. He's led projects in web development, video, social media and email. In 2013, his team's work on two websites earned them five awards from eduStyle including Best Visual Design, Most Innovative and Best Admissions Site. In 2014, he joined The Cliffs and led the implementation of CliffsLiving.com. Hensley's responsibilities focus primarily around tracking the effectiveness of CliffsLiving.com and digital technology vis a vis the company's goals.
To help fuel traffic to http://www.CliffsLiving.com, the company is employing a swath of tactics, from heavy digital presence in its key markets through advertising, pay per click and search engine optimization, to content-laden email communication plans for members and prospective members alike.
In less than 30 days, CliffsLiving.com has driven more than 60 qualified real estate inquiries and more than 70 qualified private event sales inquiries.
"We are off to a solid start," said Adams, "and we've only just begun."
About The Cliffs
The Cliffs is a collection of seven premier private, luxury residential mountain and lake communities located in the Blue Ridge Mountains of the western Carolinas, between two of the nation's top award-winning cities for quality of life - Greenville, South Carolina and Asheville, North Carolina. The Cliffs' suite of amenities for members includes seven clubs, six wellness centers, 50 restaurant and private event venues, seven championship golf courses, marinas, beach club, cycling, paddle sports, tennis complexes, equestrian center, hiking trails, wakeboarding, wine clubs, an organic farm and more than 4,000 year-round social activities to create timeless experiences. Homes at The Cliffs range in price from $500,000 to $4 million+; homesites, from $150,000. For more information about The Cliffs, visit CliffsLiving.com or call 866-411-5771.