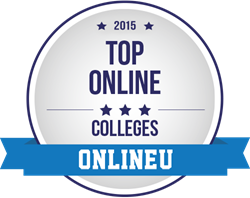 The 2015 Top Online Colleges represent the best that online education currently has to offer
Kirkland, WA (PRWEB) April 23, 2015
SR Education Group, a provider of authoritative online education resources based in Kirkland, Wash., released a major update to its site OnlineU.org: The 2015 Top Online Colleges. The new release ranks the 20 best online colleges in the nation. Stanford University, Columbia University and Duke University rank at the top of the list as the best schools that offer online degrees. All schools that made the 2015 Top Online Colleges have at least three fully online bachelors or masters degrees, are highly selective, and allow students to receive a quality degree from a prestigious university with the flexibility online education allows.
The 2015 Top Online Colleges rankings were developed by taking all of the regionally accredited colleges that offer online bachelors or masters degrees and ranking them by acceptance rate. Stanford University is ranked as the top online school, providing 46 online degree options in subjects like computer science, electrical engineering, and management science. Stanford has a proven record of constant innovation and championing technology in the classroom; offering a wide variety of online degrees that take advantage of these advances is what earned the university the #1 spot in the Top Online College rankings. Rounding out the top three are Columbia and Duke. Columbia University, known for its online graduate engineering program, came in at second place in the rankings. Columbia offers 39 online degrees, giving online students plenty of options. Duke offers 10 online degrees, including prestigious masters and doctorate degrees of nursing.
"The 2015 Top Online Colleges represent the best that online education currently has to offer," said Sung Rhee, CEO of SR Education Group. "Colleges like Stanford and Duke are probably not the first universities that comes to mind when people think about online schools. Public or private, more and more prestigious colleges and universities are offering online degrees, and we think it's a significant indicator of online learning becoming more critical in higher education. We are seeing more traditional colleges expanding their online degree programs in greater numbers."
Over 70% of chief academic leaders believe that online learning is critical to their colleges' long-term strategy and yet, big name institutions are just now entering the marketplace. The 2015 Top Online Colleges on OnlineU showcases the best colleges in the nation already investing in fully online degree programs. The majority of the Top Online Colleges also provide the resources students need to succeed academically and after graduation, including career advising, academic counseling, and military benefits. Visit http://www.onlineu.org to view all 20 of the 2015 Top Online Colleges and their respective online degree offerings.
Note to editors:
Click here to consult the methodology for the 2015 Top Online College Rankings.
About SR Education Group
Headquartered in Kirkland, WA, SR Education Group was founded in 2004 by CEO Sung Rhee. The company's mission is to create authoritative online resources for students seeking an affordable, accessible, and quality higher education program. SR Education Group is passionate about making quality education attainable for everyone and believes that objective information about education, careers, and educational financing should be free and easily accessible. For more information, please visit http://www.sreducationgroup.org.