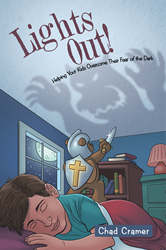 COLORADO SPRINGS, Colo. (PRWEB) April 27, 2015
The Child's Anxiety Network states that 90% of children ages 2-14 have at least one specific fear, with fear of the dark being one of the most prevalent.
In "Lights Out!: Helping Your Kids Overcome Their Fear of the Dark," author Chad Cramer offers a unique guide for parents of children who struggle with fear when the lights go out.
"The fear of the unknown, the darkness and unfamiliar sounds can be overwhelming to a child's outlook," Cramer said. "These fears and insecurities often lead to other harmful feelings or anxieties, which can cripple a child's potential."
Packed with examples from the lives of his children and also his own childhood, "Lights Out!" challenges this prevalent fear of the dark through Scripture and fear-busting activities for parents and children to complete together.
"The earlier we can instill biblical principles regarding fear and the proper view of God, the sooner our children can gain the security and confidence they need to choose courage over fear," Cramer said.
For more information, visit http://www.chadcramer.com.
Lights Out!: Helping Your Kids Overcome Their Fear of the Dark
By Chad Cramer
ISBN: 978-1-4908-6267-5
Available in hardcover, softcover and e-book on Amazon, Barnes & Noble and WestBow
About the author
Chad Cramer has a bachelor's degree in business management from Cornerstone University in Grand Rapids, Mich. He currently works for a software company, and is a member of Woodmen Valley Chapel Church in Colorado Springs. In his spare time, Chad enjoys spending time outdoors with his wife and four sons.
###
**FOR IMMEDIATE RELEASE**
For review copies or interview requests, contact: Jennifer Uebelhack
317.602.7137
juebelhack(at)bohlsengroup(dot)com