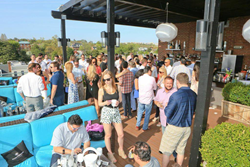 "HHM has dedicated themselves to this cause and Independent Collection hotels are setting the example on how to inspire and rally for a cause. I'm in awe of the enthusiasm that our hotels and their staff are bringing to this campaign," said Foiz Ahmed.
Philadelphia (PRWEB) April 23, 2015
The Independent Collection, together with all 115 HHM Hotels, has partnered with Autism Speaks for the second year running. Joining landmark buildings around the world in Lighting it Up Blue (LIUB) in tribute to autism awareness for the month of April, the hotels have labeled this year's campaign with Autism Speaks "Traveling There Together" and have extended their partnership to include fundraising and other engaging awareness events and activities.
"HHM has dedicated themselves to this cause and Independent Collection hotels are setting the example on how to inspire and rally for a cause. I'm in awe of the enthusiasm that our hotels and their staff are bringing to this campaign," said Foiz Ahmed vice president of Independent Collection hotels. "The excitement at IC hotels is palpable!"
Throughout the month of April, all HHM associates are raising awareness by wearing puzzle-piece pins, collecting donations from guests at check out and placing cards in all guestrooms with information on Autism Sleep Disorders – a prevalent symptom of those with an Autism Spectrum Disorder. By participating in the Light it Up Blue Campaign, HHM hotels join more than 10,000 landmarks, businesses, communities and homes is a worldwide campaign, including such iconic buildings as The Empire State Building in NYC, Niagara Falls in Canada, the Sydney Opera House in Australia, the Leaning Tower of Pisa in Italy, and even the International Space Station. HHM is the only hotel company partnering with Autism Speaks for this campaign.
In addition to all of HHM's activities supporting Autism Speaks, Independent Collection hotels are also hosting events and promotions at their individual properties. At the Boxer in Boston, the staff is dressed in blue and the bar has concocted specialty (blue) cocktails with proceeds going towards autism awareness, research and outreach. On April 15, The Graham Georgetown held a spectacular event on their rooftop, which was attended by over 170 clients and VIPs, and raised an impressive $25,000 toward the cause. In sunny California, Hotel Milo in Santa Barbara hosted a "Fun in the Sun" event featuring activities such as a Ping Pong Toss, Arts & Crafts and a bake sale for an audience of corporate clients, locals, United Way and the Autism Society of SB.
The campaign lasts until the end of the month and donations are encouraged at the HHM Fundraise Your Way website.
###
About The Independent Collection: The IC is a growing collection of cultivated and intimate lifestyle hotels located in unique residential neighborhoods of gateway cities across the US. Founded in New York in Tribeca and then Brooklyn, it has grown to Boston's West End, Midtown Village in Philadelphia, Washington's Capitol Hill and Georgetown, down to Miami's South Beach and west to Hotel Milo Santa Barbara across the last five years. This distinctive hotel concept is renowned for its authentic connection to the local communities, personalized service and residential comforts. Independent Collection hotels are created for the independently minded traveler and invite guests to experience the true spirit of the city. Learn more by visiting http://www.independentcollection.com.
About HHM: Formerly known as Hersha Hospitality Management, HHM operates 115 hotels across the United States. It provides turnkey hotel management, asset management and receivership for properties with leading brand affiliations through Marriott, Hilton, Hyatt, Starwood, and Intercontinental Hotel Group. HHM also operates 28 independent hotels ranging from The Rittenhouse Hotel, a AAA Five Diamond property in Philadelphia, to the Larkspur Landing hotels, all-suite extended stay properties in Northern California and the Pacific Northwest. Its highly experienced team is accustomed to serving as a fiduciary to publicly traded companies, joint ventures, institutional real estate owners and private investors. Additional information on HHM can be found at http://www.hhmhospitality.com.
About Autism Speaks: Autism Speaks is the world's leading autism science and advocacy organization. It is dedicated to funding research into the causes, prevention, treatments and a cure for autism; increasing awareness of autism spectrum disorders; and advocating for the needs of individuals with autism and their families. Autism Speaks was founded in February 2005 by Suzanne and Bob Wright, the grandparents of a child with autism. Mr. Wright is the former vice chairman of General Electric and chief executive officer of NBC and NBC Universal. Since its inception, Autism Speaks has committed more than $525 million to its mission, the majority in science and medical research. Each year Walk Now for Autism Speaks events are held in more than 100 cities across North America. On the global front, Autism Speaks has established partnerships in more than 60 countries on five continents to foster international research, services and awareness. To learn more about Autism Speaks, please visit AutismSpeaks.org.