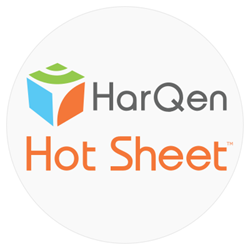 HarQen's Hot Sheet is a real game changer. The one thing none of us in Recruiting and Talent Acquisition do well, is mine our own internal databases.
Milwaukee, WI (PRWEB) April 23, 2015
HarQen's most recent tool to improve recruiting outcomes and deliver hiring success, the HarQen Hot Sheet, was reviewed by HR thought leader Tim Sackett.
"We have been following Tim and his input into the recruiting space for some time now and respect what he does to enhance the recruitment discussion. To have him write such a positive review of the HarQen and our Hot Sheet means a lot, " said HarQen CEO, Ane Ohm.
HarQen developed the Hot Sheet to address two main issues. The first was the redeployment of existing talent resources. Many employers and staffing companies have ATS databases filled with thousands of past applicants but rely on post-and-pray approaches whenever a new position opens up. With the Hot Sheet, HarQen works with companies to redeploy their existing database of talent. HarQen engages candidates and determines their availability and core qualifications for a position. HarQen then returns a list of available and qualified candidates back to recruiters in rank order so they hit the ground running and connect with the best candidates first.
In his review, Tim Sackett highlighted, "HarQen's Hot Sheet is a real game changer. The one thing none of us in Recruiting and Talent Acquisition do well, is mine our own internal databases."
Helping recruiters focus is the second issue the Hot Sheet addresses. Recruiters can search through their applicant tracking systems to find pools of potential candidates, but the results of the search don't give them a clear point to start. Instead of picking randomly from results of a search, recruiters receive an actionable call list in rank order, so they know exactly who to connect with first. "The Hot Sheet does not require any new technology or change in process for the recruiter. They do what they do best with the right people," said Ohm.
The results of this improved focus on recruiting outcomes are undeniable. One global staffing partner projected a 304% increase in recruiter gross profit per day using the Hot Sheet.
HarQen's Hot Sheet is a non-contract offering and can be spun up when needed. Sackett said, "You only send the people you want HarQen to go after with Hot Sheet, so it's not some spammy program, killing your database. You use as much, or as little as you want. You can also shut it off at any point. Since you only pay for those that respond, this is one of the [most] economical pieces of recruiting technology on the market."
Tim Sackett reviews new technologies in the recruitment space each week is his Talent Tech Tuesday (T3) segment.
HarQen provides no-obligation reviews of recruiting processes to determine how the Hot Sheet or its other tools will impact recruitment outcomes.
About HarQen:
Since 2007, HarQen has been helping Fortune 500 and mid-market clients align and accelerate their recruitment processes to deliver the business outcomes that matter to them. HarQen believes technology must play a key role in optimizing the recruitment process, but it cannot stand alone. It must be tied to key business outcomes and supported with change management and workflow installation.