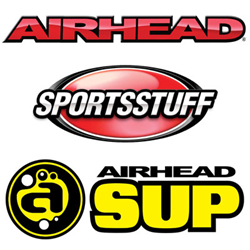 Shockwave 2 & 3 are a wave of excitement for 1,2 or 3 thrill-seekers!
(PRWEB) May 06, 2015
Kwik Tek Inc., owner of the AIRHEAD®, SPORTSSTUFF® and AIRHEAD SUP® brands, has long been recognized as the industry leader in towable tubes and a "one stop shop" for floats, wake boards and other boating watersports accessories. Kwik Tek is proud to introduce these breakthrough additions to their product lineup for 2015:

SUP: Introducing the new CAMO SS SUP. SS stands for "Super Stable", and that's just what this special camouflage inflatable SUP is. Outdoor enthusiasts will especially love the camo look for SUP fishing and exploring water destinations that reward the stealthy approach with unbelievable views and experiences. Beginners, intermediates and larger riders love the SS's unparalleled stability. Experts, especially extreme white water paddlers, appreciate the stiffness, lower standing area, tapered rails and aggressive nose for punching through waves. An entire line of new SUP ACCESSORIES have also been added to Kwik Tek's arsenal to increase stand up paddle boarding enthusiasts' fun on the water! The entire collection is available at http://www.airheadsup.com and includes anchors, leashes, training wheels, paddles, carriers, bungee cargo nets, high pressure pumps, coast guard kits, lashing tabs and more!
TOWABLES: The new Airhead LIVE WIRE 2 & 3 come packed with dual tow points that deliver a variety of different riding options and electrifying graphics. Airhead SHOCKWAVE 2 & 3 are a wave of excitement for 1, 2, or 3 thrill-seekers! Riders can defy centrifugal force with the bonus topside stabilizer fins. The all new Sportsstuff HIGH ROLLERS feature a unique multi sphere design that barely touches the water while towing. Available in 2, 3, & 4 rider models the strategically placed air chamber on back supports knees and feet for comfort around whips and turns.
POOL, LAKE, & BEACH: Airhead's all new DESIGNER SERIES of inflatable floats and lounges will bring a new elegance to any pool or lake featuring 3 designer colors: Aqua, Lime, and Tangerine. Seven different designs constructed of heavy gauge vinyl ensure you'll relax in comfort and luxurious style. The Designer Series FLOATING COUCH is the ultimate island for 3 adults or 4 kids with a large wrap around backrest and lounging top surface. FLOATING HAMMOCK will comfortably cradle users while they float and forget about their troubles. Users love the head and neck comfort the CHAISE lounge provides while a cool drink rests at their side. The all new Designer Series SEAT RING, FLOAT and CHAIR also deliver premium relaxation without sacrificing style. RIVER OTTER is a new heavy gauge PVC tube that has 2 comfortable molded handles and is great for rivers, lakes and pools. A molded drink holder ensures users won't go thirsty and two rope anchors are included to tether or link to 2 or more friends for the ultimate river flotilla! The classic Sportsstuff SIESTA LOUNGE has been given a facelift for the 2015 season presenting a hot new look. This deluxe float provides a level of comfort on the water that puts it in a league of its own.
WAKE BOARDS: SHRED TIME is a lightweight twin tip free ride wake board designed to help youth riders of all levels excel at the sport. Younger riders will love the fun animated graphics! SPIKE is designed for riders looking for smooth transition through turns and a consistent pop off the wake. Riders will love the 6 fin dual thruster setup with ultimate hold and tracking that RIPSLASH provides. The side fins are curved and angle outwards at 11 degrees to provide extra edge hold and a loose feel in neutral. The continuous rocker is fast and forgiving with smooth pop.
KNEE BOARD: WAKE SHAKER's newly designed channeled bottom makes knee boarding easier and more fun to ride! It's great for all riding levels and has massive rocker and beveled edges for sharp turns without getting hung up during surface tricks. The deep knee wells provide ultimate comfort and control.
WATER SKIS: Water skiers will love the stability and support of the new Airhead 65.5 in long AHS-1400 COMBO WIDE-BODY WATER SKIS. The extra wide tip displaces more water for easy start-ups and provides superior stability on top of the water. The hourglass shape provides quick low effort turning initiation even at slower boat speeds. More advanced skiers will enjoy the wide tips for jumping wakes. The fresh new graphics on the Airhead AHS-1300 COMBO WATERSKIS are sure to attract attention on the water.
ROPES: The 9/16" x 50 ft. BUNGEE TUBE TOW ROPE adds a little extra zing and excitement to any towable. Featuring a 3/8" diameter bungee cord spliced inside, riders will enjoy brief surges of speed as the bungee stretches and contracts. ANCHOR BUNGEE & ANCHOR BUNGEE LIGHT enable tethering boats offshore, away from a beach or rocky shoreline without having to swim or use a dinghy! User connects an anchor to the boat with the high tensile strength ANCHOR BUNGEE and sets the anchor offshore. Then ties a line to the stern to pull the boat into the shore to unload their passengers. By simply securing the end of the rope to a stake onshore and releasing the rope; ANCHOR BUNGEE will pull the boat away from shore into safe waters!
DOCK BUMPERS: These heavy duty commercial grade bumpers are great for commercial marinas and personal docks. They're manufactured from UV and tear resistant vinyl / polyester tri-laminate and are filled with high-density closed-cell foam. Stainless steel corrosion proof grommets provide secure mounting to docks along with extravagant protection to all boats.