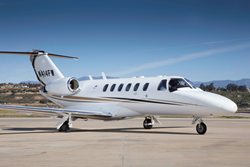 SANTA BARBARA, CALIF. (PRWEB) April 23, 2015
Silver Air, the private aircraft management company and charter operator, has added another Citation CJ2 to its growing fleet of managed jets available for charter out of the Camarillo Airport in Southern California.
The Camarillo-based CJ2 is a popular light jet with comfortable onboard amenities and seating for six passengers. Silver Air is managing the CJ2 for a corporate partner and is actively chartering flights on this aircraft to clients traveling to – or from – Westlake Village, Thousand Oaks, Malibu and surrounding communities.
"Camarillo is becoming more popular as a convenient airport for many of our clients in the San Fernando Valley and Ventura County, and Silver Air is actively expanding our fleet here to meet this growing demand," said Silver Air CEO Jason Middleton. "Silver Air works hard to meet our clients where they need us from Orange County to Santa Barbara and in between."
Silver Air manages a number of heavy- to light-aircraft out of Camarillo including Gulfstream GIV, Lear 60, Citation X, Citation CJ2 and Phenom 100 models.
Silver Air manages and charters other aircraft throughout Southern California including Gulfstream GV, Gulfstream G450, Beechjet 400, Citation V, Citation CJ2, Citation II and Citation I models.
Learn more about Silver Air's private aircraft management here: https://vimeo.com/112879717
More information at http://www.SilverAir.com.
Follow Silver Air at http://www.Facebook.com/FlySilverAir. #flysilverair
About Silver Air
Silver Air is a leading private aircraft management company and direct charter operator that delivers a transparent, owner-advocate approach to management creating valuable partnerships with private jet owners. Founded in 2008, the company is based in Southern California with corporate offices in Santa Barbara. Silver Air manages a comprehensive fleet of luxury aircraft from light to long-range heavy jets and a global network operating around the clock, 24-hours-a-day.
###