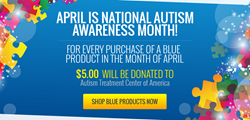 We wholeheartedly believe we need to take steps forward in the realm of autism research
Miami, FL (PRWEB) April 24, 2015
Luxury travel clothing brand Anatomie today announced a special sale in honor of the Autism Awareness Month. For every blue product, the autism awareness color, purchased online, Anatomie will make a donation of $5 to the Autism Treatment Centre of America.
The sale launches April 20 and runs through April 30. Customers can easily search for blue products here.
The Anatomie team was moved to act since autism now affects one child out of 68. Anatomie is alarmed at the rising rates—nearly everyone knows someone affected by this disability and there is no known cure. Their goal with this campaign is to support autism research and bring awareness of the disorder to the broader public.
Anatomie has chosen to partner with the Autism Treatment Centre of America due to their global, innovative approaches in treating Autism with their renowned Son-Rise program®, a completely unique technique which has demonstrated progress and provided hope to a worldwide community.
"We wholeheartedly believe we need to take steps forward in the realm of autism research," said Kate Boyer, Anatomie CEO and Founder. "We feel compelled to show compassion and understanding to those afflicted. We want them to know that we understand and we want to help."
If this sale is successful, Anatomie plans to support additional awareness programs in the future for autism and as well as support for other social awareness efforts.
About Anatomie
Anatomie creates luxury, resilient women's clothing meant to withstand the demands of travel for more than 100,000 women around the world. The company was founded in 2005 by Shane and Kate Boyer who realized the niche need for durable yet stylish clothing, after Kate experienced the need personally. Anatomie is headquartered in Miami, FL. Anatomie's designer clothes can withstand overnight flights, global adventures, crammed suitcases and exotic escapes due to versatile designs and superior quality. Anatomie also offers a sports line. For more information, follow Anatomie on Facebook, Twitter, Pinterest and YouTube or read Anatomie's blog for the latest styles and travel tips and advice.
About Kate Boyer, Anatomie CEO & Founder
Kate began designing travel fashion clothes for women almost by accident, having left her native Hungary to pursue an MBA in International Trade in southern France. She funded her studies through working as a fitness instructor, including training young gymnasts. As a former gymnast herself, Kate understood the demands on the girls' competition outfits and designed them herself in order to ensure the high performance of the sportswear. Not only did Kate's trainees go on to win the highly coveted French Aerobic Championships title, which they held for three consecutive years, but Kate's love of designing and creating clothes was born.