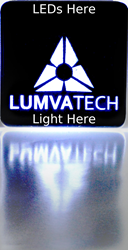 Dedicated volume production cutter streamlines the work flow allowing the company to continue 2 week delivery for small run and prototypes.
Anderson, SC (PRWEB) April 30, 2015
Lumvatech announces the purchase and delivery of a new high precision, high speed panel cutter. The cutter has been installed, calibrated, and put into immediate production at the Anderson, SC design, production, and corporate headquarter location. Production capacity is significantly increased while keeping quality and precision panel cutting within specifications required by end customers. High volume LED backlight panel production projects pushed the need for the new cutter. The new cutter will be largely dedicated to volume production. This frees up the existing cutting capacity to be more flexible keeping prototype and smaller run production times short. "This new generation cutter is outfitted with optical grade cutting hardware" stated Aaron Meltzer President and Founder. "The custom enhancements improve thin light panel cutting accuracy to +/-0.001 inch on materials from 0.005 to 0.125 inch thick."
The company is entering a period of unprecedented order and revenue growth. World wide customer projects are transitioning from the design stage to the volume production phase of their product life cycles. The rapid growth of production volume projects made the trade off between capital expenditure and labor costs a clear decision to add the equipment. "We have oriented the new cutter to allow smoother production flow" stated Alan MacDonald Operations Manager. The production area has also been configured and prepared in anticipation of the need for up to 2 more cutters in the existing space. "The new machine takes the load of high volume production out of the prototype flow. This will increase efficiency and keep our prototype lead time at 2 weeks."
Another milestone reached in Q1/2015 showed international revenue exceeding domestic revenue for the first time.
All thin light panel design and manufacturing activities continue to be centered in Anderson, SC.
About Lumvatech
Lumvatech is a leading U. S. based manufacturer of ultra thin planar light panels for LED backlighting. Custom thin solutions for backlighting of POP displays and signage, logo nameplates, and human machine interfaces with dome, membrane, and touch switches. Lumvatech products are available to the HMI manufacturing and advertising production channels exclusively.
To gain additional information please see http://www.Lumvatech.com or send an email to sales(at)lumvatech(dot)com
For a review of Lumvatechs product portfolio CLICK HERE to visit the Lumvatech channel at youtube or follow Lumvatech on Linked In.