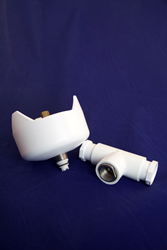 This technology lets producers get Birthright™ milk to the right pigs and reduces over feeding
Marshall, MN (PRWEB) April 24, 2015
Ralco announced today that it has entered into an agreement with Advanced Birthright Nutrition® (ABN) for the exclusive worldwide rights to sell and distribute the Birthright™ Moveable Milk Cup. The new technology is a new in-line milk system that increases the profitability and efficiency of swine producers by allowing them to move supplementation milk cups within a farrowing facility while the system is running.
"This technology lets producers get Birthright™ milk to the right pigs and reduces over feeding," said John Vignes, owner of ABN and inventor of Birthright™ baby pig milk replacer. "They can also remove the cups while the milk system is running and clean the hard-to-reach bottoms, which is important for fighting PRRS and PED."
Swine producers that utilize the technology plumb each crate in a farrowing room, and then insert cups where they are needed. Birthright™ milk can be targeted to the smaller pigs for more uniform litters and less weaning of under weight pigs. Targeting the pigs that require supplementation the most reduces overfeeding and controls milk costs. Also, the cups can be removed and completely cleaned without shutting down the milk system, which is essential for biosecurity.
The agreement between Ralco and ABN was signed on Ralco's 44th Anniversary. Ralco President Jon Knochenmus said acquiring new technology has been fundamental to the company's growth and will continue to propel it forward for decades to come.
"Today is Ralco's 44th anniversary and the signing of this agreement demonstrates that our pursuit of innovation and intellectual property never stops. We are a science and technology company and the technology acquired through this agreement will help swine producers be more profitable and efficient. It also helps Ralco achieve its mission to provide a safe and abundant global food supply," Knochenmus said.
The patented technology took two and a half years to develop and was designed by mechanical engineer Justin Vignes. John Vignes said working with his son on the project was especially gratifying.
"This is a very special day, first because my son can be a part of it. Second, I have been in partnership with Ralco for 21 years and I couldn't have asked to do business with a better company," he said.
The Birthright™ Moveable Milk Cup is patented under U.S. Patent No. 14/494,745 and European Patent No. EP14186175.7. The technology has been nominated for the 2015 National Hog Farmer New Product of the Year and will be on display at World Pork Expo booth V325 in the Varied Industries Building.
Ralco is a third-generation family owned multinational company with distribution in more than 30 countries. A leading global provider of livestock nutrition, animal health products and crop enhancement products; Ralco supports large segments of the livestock, poultry, aquaculture and crop industries.
For more information about Ralco contact:
Ryan Wendland
330 3rd Street
Balaton, MN 56115
(507) 337-6819
ryan(dot)wendland(at)ralconutrition(dot)com