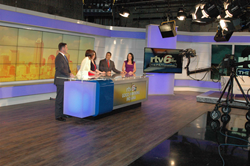 We caught their vision and created a crazy-flexible set
Ocoee, FL (PRWEB) April 24, 2015
WRTV, the ABC affiliate in Indianapolis, debuted a new modern set, complete with wide video walls, multiple monitors and color-changing LED's for peak flexibility all designed, installed and lit from FX Design Group of Ocoee, FL.
At the forefront, is a modern weather center that showcases StormTeam 6 with the best technology available. A giant monitor weather presentation area dominates the weather center, but this area is also a multi-purpose stage to be used in any storytelling situation. Four weather systems, a standing desk for severe storm tracking, and a large green screen, give the weather team aggressive and urgent options to keep viewers informed in the rough Midwest weather that Indianapolis provides.
"With the new set we have a versatile work space that allows us to come up with creative ways to showcase our stories," said WRTV News Director Terri Cope-Walton. "The addition of the lighting changes enhances our viewers' experience by giving them a visual cue when we have breaking news."
The set itself combines modern technology with contemporary design. Light boxes with color-changing LED's take the place of all old duratrans. Gloss white is the focal point color, accented with rich blues to give the overall look a clean and eye-pleasing style. The RTV6 team didn't want the traditional brick and stone that is often used and instead wanted something more versatile and adaptable to all breaking news, investigative special reports, and storytelling needs. No duras. No fake skylines. No brick. RTV6 continues to roll out programming that needs special showcasing, such as The Now that debuted April 20, weekdays at 4:00 PM.
"The team at WRTV was very clear that this set should be able to transform into many different multipurpose areas, with changing camera angles and colors," said Bonnie Barclay, VP of Marketing at FX Design Group. "We caught their vision and created a crazy-flexible set that a talented team can morph into many different needs."
FX Design Group also did the lighting design to showcase not only the talent but the set as well, for clean and perfect lighting no matter which shot is served up.
"This was really an amazing set experience," said Seth Keever, WRTV Director of Production. "FX is not only a great design firm, but they handled every obstacle thrown their way and focused on finding solutions."
# # #
About FX DESIGN GROUP:
FX Design Group is a design company delivering projects worldwide in broadcast for News, Talk Shows, Lifestyle, Sports and Entertainment programming. FX gives clients access to a complete compliment of set design, virtual design, motion graphic design and branding, fabrication and installation services, as well as lighting design and lighting gear – all from one source. The FX collaborative process focuses on creative synergy, versatility and logistical efficiencies to maximize clients' budgets, aesthetics and multi-functionality. To learn more about FX Design Group please visit http://www.fxgroup.tv.
About WRTV:
WRTV (also known as RTV 6) is owned by the E.W. Scripps Company, a diverse media enterprise with interests in television stations and newspapers that are passionate about the company's long-time vision statement: "Give light and the people will find their own way."
About The E.W. Scripps Company
The E.W. Scripps Company serves audiences and businesses through a growing portfolio of television, radio and digital media brands. Scripps is one of the nation's largest independent TV station owners, with 33 television stations in 24 markets and a reach of nearly one in five U.S. households. It also owns 34 radio stations in eight markets. When Scripps and the former Journal Communications merged their broadcast assets in early 2015, they also spun off their respective newspapers, creating a new public company, Journal Media Group. Scripps also runs an expanding collection of local and national digital journalism and information businesses, including mobile video news service Newsy and weather app developer WeatherSphere. Scripps also produces television shows including The List and The Now, runs an award-winning investigative reporting newsroom in Washington, D.C., and serves as the long-time steward of the nation's largest, most successful and longest-running educational program, the Scripps National Spelling Bee. Founded in 1878, Scripps has held for decades to the motto, "Give light and the people will find their own way."