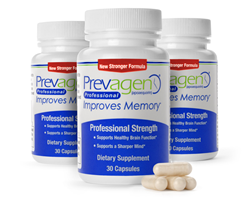 ORLANDO, Fla. (PRWEB) April 23, 2015
Prevagen Professional, memory-enhancing supplement, exhibits at the 2015 Age Management Medicine Group (AMMG) conference in Orlando, Florida on April 23. The conference delivers four days of trending industry topics, science advances, interactive panel discussions, informative presentations, and more.
Prevagen Professional (40 mg) is the strongest formula available of the Prevagen brand supplements and recommended for people with greater memory concerns. Prevagen Professional is available exclusively through healthcare provider offices.
Prevagen Professional contains the unique ingredient apoaequorin, a protein originally discovered in a jellyfish which binds neuronal intracellular calcium ions and supports calcium homeostasis. Prevagen has shown to improve cognitive function in the Madison Memory Study, a double-blind, placebo-controlled study of 218 adults over 90 days.
Prevagen brand supplements have been available since 2007 and demand for the products continue to grow as Americans are leading healthier and longer lives than ever before. Prevagen has helped hundreds of thousands of customers through its nationwide distribution in drugstores, health food stores, and physician offices since the product was launched.
The AMMG conference will be held April 23-26 at the JW Marriot/Ritz Carlton Grande Lakes in Orlando, Florida. For more information about the conference, please visit http://www.agemed.org.
About Quincy Bioscience:
Quincy Bioscience is a biotechnology company based in Madison, Wisconsin, focused on the discovery, development and commercialization of novel technologies to support brain health in aging, with a specific emphasis on memory support and cognitive health. Quincy Bioscience is set apart by its cutting-edge applications of the patented protein apoaequorin, which has been tested to show improvements in cognition and memory in clinical trials. Learn more at http://www.quincybioscience.com.