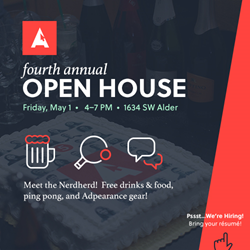 Psst: We're Hiring!
PORTLAND, Ore. (PRWEB) April 23, 2015
Adpearance, Inc., a digital marketing agency located in Portland, Ore., opens its doors this year to industry professionals, job seekers, and students on Friday, May 1, from 4 p.m. to 7 p.m.
The six-year-old agency has almost doubled its size since August 2014, growing from 27 to 50 employees and hiring an average of 3 employees per month. As it continues to experience this fast-paced growth, it's looking to add to the team, specifically in the following areas:

Web developers
Project managers
Account directors
Inbound marketers
Since 2009, Adpearance has grown its suite of services to provide full digital marketing solutions to its clients, including web design and development, digital and social media advertising, public relations, social media strategy and management, search engine optimization, custom analytics, a range of proprietary products, and more.
Along with networking opportunities for the positions listed above, attendees will enjoy a Q&A with Adpearance's teams and co-founders, highly-competitive ping pong and foosball tournaments, and great conversation about the state of digital marketing.
Kick off the weekend with the Nerdherd and don't forget to chat with us using the official event hashtag, #MeetAdpearance.
Please RSVP on Adpearance's Facebook page or by emailing Breanna Fleckenstein at breanna.fleckenstein(at)adpearance(dot)com, and don't forget to follow Adpearance on Twitter and Instagram @adpearance.
About Adpearance, Inc.
Adpearance, Inc. is a Portland-based digital marketing agency specializing in paid search, search engine optimization, local search, social media marketing, email marketing and web site design and development. Our philosophy is simple: use customized data metrics to inform marketing decisions for the most return on investment for our clients. By engaging consumers and compelling them to act, we can guarantee results. For more information, visit http://www.adpearance.com.
###