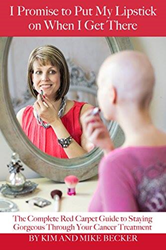 Kim Becker said, "We have been so deeply touched by all the women who have shared their lives with us over the years. We wanted to give them something that would help them fight cancer with strength and dignity and that is why we wrote this book."
Washington D.C. (PRWEB) April 23, 2015
April 23, 2015- Award-winning authors Kim and Mike Becker created Hello Gorgeous! of HOPE, Inc. eight years ago which prompted them to write their first award-winning book, "Hello Gorgeous!: A Journey of Faith, Love and Hope". The book inspired so many people the authors agreed to pen their second book, "I Promise To Put My Lipstick On When I Get There" which launches April 23, 2015. Kim Becker said, "We have been so deeply touched by all the women who have shared their lives with us over the years. We wanted to give them something that would help them fight cancer with strength and dignity and that is why we wrote this book."
"I Promise To Put My Lipstick on When I Get There" gives techniques that will help women fighting cancer counteract the cosmetic changes their body can experience during treatment. The book includes makeup, skincare, beauty tips and techniques. It will help those fighting cancer produce the same transformational changes in their appearances that Hello Gorgeous! of Hope has achieved with hundreds of women across the United States.
Hello Gorgeous! of Hope Inc. is a non-profit that provides complimentary, professional makeovers and cosmetic education to women battling cancer. The non-profit was created to: 1) strengthen the confidence of women who have treatments 2) empower them and 3) help them to feel beautiful in their own skin. Hello Gorgeous! has helped about 600 women across the U.S. and they currently have nine states offering the Affiliate Salon experience. Hello Gorgeous! has eight years of performing startling surprise makeovers on women with all types of cancer. "Women with cancer don`t want to look like Miss America," the authors say, "They just want to look normal, so they can take their kids to soccer practice without the looks of pity and judgment. These techniques can empower them, give them back some of the normalcy they have lost."
The Beckers have received the Mom`s Choice Award for their first book, "Hello Gorgeous!: A Journey of Faith, Love and Hope", published by Corby Books. They are also the 2014 Mutual Bank Better Life Award finalists and the American Cancer Society 2014 Coaches Verses Cancer Night of the Stars Inspirational Award winners. They have been married for 21 years and live in Indiana with their 12-year old son, Seth and a pug named Sam.
If you would like more information about Hello Gorgeous! of HOPE, Inc contact 855-434-3556, or email hellogorgeousin@sbcglobal.net. You can also log onto the website at http://www.hellogorgeous.org.
###