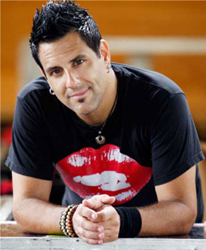 Rich demonstrates so clearly the Marstel-Day message that we can find creative ways to protect the environment in every choice we make, even those that are not obvious
Fredericksburg, VA (PRWEB) April 22, 2015
All-star drummer and environmentalist Rich Redmond brought his passion for "Motivation, Mother Nature and Music" to Marstel-Day's Wildlife Conservation Awareness Campaign (WCAC). Redmond's high-energy mix of music and tips for success for making environmentally-conscious choices was a novel way to present the Marstel-Day sustainability message.
"Rich demonstrates so clearly the Marstel-Day message that we can find creative ways to protect the environment in every choice we make, even those that are not obvious," noted Marstel-Day President and CEO Rebecca R. Rubin. "He was so great in our interview series Vital Voices filmed in Nashville(link) that I wanted to bring him to Virginia as part of our Wildlife Conservation Awareness Campaign, because he proves that every industry and every person can find a way to make choices that preserve the environment."
Marstel-Day created the Wildlife Conservation Awareness Campaign(link) to highlight major conservation efforts and present ways that individuals and organizations can meaningfully engage to support them. The Wildlife Campaign is one part of what Marstel-Day describes as its "conservation mosaic" of initiatives, which includes interviews with environmental thought leaders on its Vital Voices of the Environment series as well as the company's green initiatives such as its widespread Earth Day projects which can be viewed here http://www.marstel-day.com/earthday
A leading Nashville-based drummer who tours and records with multi-platinum country-rocker Jason Aldean often to stadiums of 60,000 fans, including on the Academy of Country Music Awards on Sunday, Redmond encouraged the audience to, "Be hungry for a change in the environment….start with one thing. If everyone does one thing, there's massive change…."
"This drummer dude is green," he said. "I'm running a green business. When I play drums, I normally have a drum set made out of bamboo," a highly sustainable wood.
Held at University of Mary Washington on April 15, 2015, Redmond also went back to his roots studying music education in college and spent the morning teaching UMW music students before his presentation at the Marstel-Day WCAC event in UMW's Jepson Alumni Executive Center. (see photos at: http://bit.ly/1OIbJJZ)
Marstel-Day is an international natural resource and environmental consulting firm that provides innovative solutions to business, government, and non-profit clients. The services its multidisciplinary staff provides include: climate and water risk analysis and mitigation, land use/encroachment management, sustainability management, energy planning, and natural resource services. Marstel-Day has offices in the Washington, D.C. area, California, Texas, Mississippi, Colorado and the United Kingdom, and is an official partner in the U.S. Environmental Protection Agency's Green Power Partnership program. http://www.marstel-day.com, @marstelday https://instagram.com/marstelday/