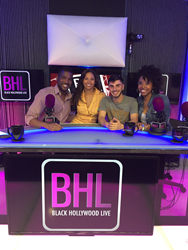 Kevin Hart is a true talent and doing crazy stuff and always changing it up. It keeps you on your comedy game
Hollywood, CA (PRWEB) April 24, 2015
Multi-talented actress "Salli Richardson" known for her work on hit shows such as: Eureka, Being Mary Jane and blockbuster movies such as Antwone Fisher sat down with Maria Menounos' Black Hollywood Live's "Portraits" hosts and discussed working with Gabrielle Union and why fans are obsessed with BET's Being Mary Jane series. Richardson said "The show is written beautifully and Gabrielle Union is fabulous in her role. A lot of women can relate to the topics that are covered on the show, including choosing the wrong men and making the wrong decisions. In regard to my character "Valerie", I think women like her because they want to see something positive. Valerie is married, has a family and deals with her own struggles, but she is not doing a lot of mischievous things that other characters on the show are doing."
When asked about working with Denzel Washington on Antwone Fisher, Richardson revealed "At first it was intimidating. I wish I was who am I am now, because I have so much more to bring to the table."
Richardson has had her ups & downs in the entertainment business, but continues to stay optimistic about the current opportunities in the business for herself and other African Americans. She had this to say about the current Essence Magazine cover entitled "Game Changers" featuring Mara Brock Akil, Ava Duvernay, Shonda Rhimes, Debbie Allen and Issa Rae. " Those are some powerhouses on the cover, I do not see them backing down and not continuing to fight the good fight. They are pushing through in this industry and that is exciting to me. I do not see them disappearing, I just see them getting bigger and bigger."
You will soon see Richardson as a new cast member on Kevin Hart's "Real Husbands of Hollywood". Even though she is known for her more dramatic roles, Richardson had this to say about working on set with Hart. "That kind of comedy is not in my wheel house, Kevin Hart is a true talent and doing crazy stuff and always changing it up. It keeps you on your comedy game."
In addition to BET's Real Husbands of Hollywood, you can catch Richardson on her new series Stitchers on ABC Family.
Black Hollywood Live is the world's 1st online broadcast network devoted mainly to African American entertainment. BHL's current programming showcases news, intelligent commentary and inside information on entertainment, pop culture, politics and lifestyle and features in depth interviews with celebrities, experts and influencer's of all kinds.
For more information about Black Hollywood Live, contact @DerrialChriston.
Full interview at:
Site: http://www.blackhollywoodlive.com/2015/04/17/interviewing-salli-richardson-%C2%ADwhitfield-bhls-portraits/
Youtube.com: https://www.youtube.com/watch?v=11M2EQaLm18
itunes: https://itunes.apple.com/us/podcast/portraits/id611663536?mt=2&ign-mpt=uo%3D4
Portraits is hosted by Derrial Christon, Dj Jesse Janedy and Courtney Stewart.